Former workers of the Ghana Ports and Harbours Authority this morning [Thursday] picketed at the headquarters of  the authority in Tema.
The former workers numbering about 200, said they were not treated fairly during a compulsory redundancy program undertaken by the management of the Port in 2002.
The angry ex-workers who are between their late 40s to 70s were clad in red and black dresses with red cloth tired around their necks and wrists.
They carried placards some of which read; Pay us our money, The 14 years of waiting is over, we are dying Mr President, corruption is a high risk venture Mr President among others.
Speaking to Citi News, the workers claimed that government and its agent at the GPHA are deliberately shortchanging them and have over the years refused to pay them the required amount of redundancy packages meant for them.
The group also presented a five-point petition to the management of the Ghana Ports and Harbours Authority and among other things gave the management up to Monday 7th November to address them.
Among other things stated in the petition, the workers noted that The redundancy packages paid them during the voluntary redundancy programme were inadequate.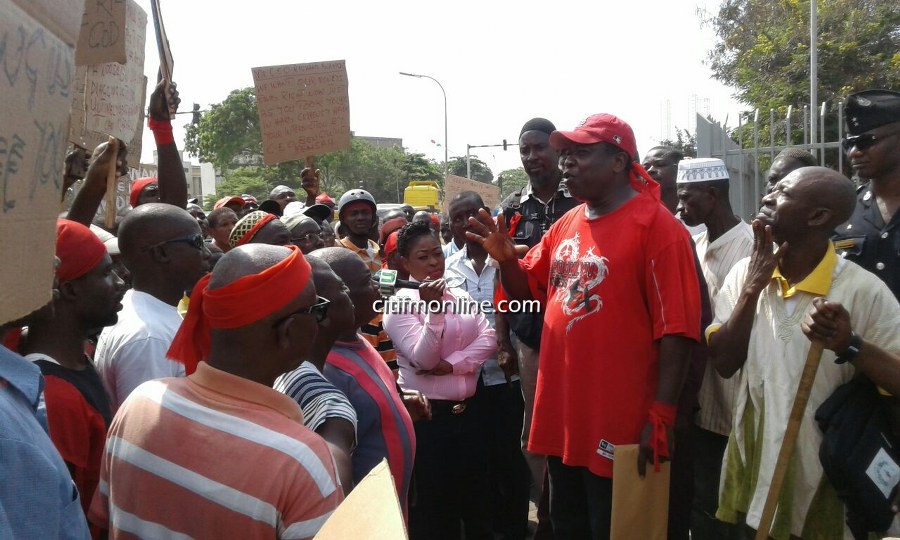 "In 2002, management embarked on a worldbank funded project dubbed 'voluntary retirement exercise' to restructure the port. In all five thousand six hundred and ninety five staffs opted to leave voluntarily. However, upon receiving our calculated benefits which included two bags of rice, sugar and a gallon of cooking oil, we detected later that management had shortchanged us. Based on this and more, we are here to be given our differences," the spokesperson for the ex-workers, Lord Nsia Laryea said.
He added that the ex-workers would take another line of action if nothing is heard from management.
"As we present this petition today, we wish to sound it clear to the leadership of Ghapoha that we have waited for them for far too long and we can no longer wait. We have given them up to Monday to address our issues and failure to do so, we shall advice ourselves."
The chairman of the ex-workers association, Stephen Ashitey also added that, the unfair treatment of the former workers has brought untold hardship upon them.
"Since 2002 where we went on our voluntary retirement, life has not been easy. Over six hundred have passed on and still counting and all of these are as a result of the severe hardship brought upon us by GPHA."
He appealed to the president John Mahama to as a matter of urgency prioritize the release of the monies due them since it is long overdue.
Mr Asitey however added that they decided to picket because several attempts to get the attention of key stakeholders in the payment of their monies have not yielded any result.
"We have tried on several occassions to meet all stakeholders involved to address our challenges but to no avail. This is just the beginning, we are not giving up until our monies are pained to us in full. Most of our children are out of school because of this unfortunate programme," he stated.
–
By: Elvis Washington/citifmonline.com/Ghana