The Electoral Commission of Ghana (EC), says it has detected 33 new errors on the nomination forms of the National Democratic Party (NDP) presidential nominee, Nana Konadu Agyeman Rawlings.
This follows a Supreme Court judgement on Monday [November 7] that ordered the EC to extend the period of filing of nomination forms to close of day Tuesday, November 8, 2016, and also allow aspirants who were disqualified from the presidential race the opportunity to correct anomalies on their forms that formed the basis for their disqualification.
[contextly_sidebar id="BJA6gVYVwweRTCtbe4dmiuruSbFQgB7Y"]The Electoral Commission in a letter to the NDP said the errors must be corrected by 5pm today [November 8], to enable the party's nominee contest in the upcoming presidential elections.
But according to a statement signed by the General Secretary of the NDP, Mohammed Frimpong, the EC's announcement of new errors is 'unfair' and 'absurd'.
The party said it was saddened by the turn of events, as the EC had only informed them of only one anomaly that formed the basis for the disqualification of its presidential nominee.
 'Why Konadu was disqualified'
On October 10, 2016 the Electoral Commission said it could not accept the nomination forms of the party's candidate because the number of subscribers on her forms did not meet the requirements of Regulation (2) (b) of CI 94.
It said on page 89 of the forms, one of the subscribers was not validly registered as a voter and illegally registered twice and was therefore on the Commission's Exclusion list of multiple voters.
'NDP to go to court'
The National Democratic Party (NDP), has threatened to go back to the court over the matter, describing it as an "oppressive tactic" by the EC to ensure its presidential nominee does not contest in this year's election.
The NDP in their statement said the discovery of new errors "is not right. This cannot be legal. This is a clear violation of our human rights.. We reject this trick of the EC. We reject this clear attempt at victimisation by the EC," it said.
"We are calling on the Electoral Commission to immediately desist its oppressive tactics and with immediate effect reverse this illegal demand of us; else we would have no option but to return to court," it added.
Full NDP statement below: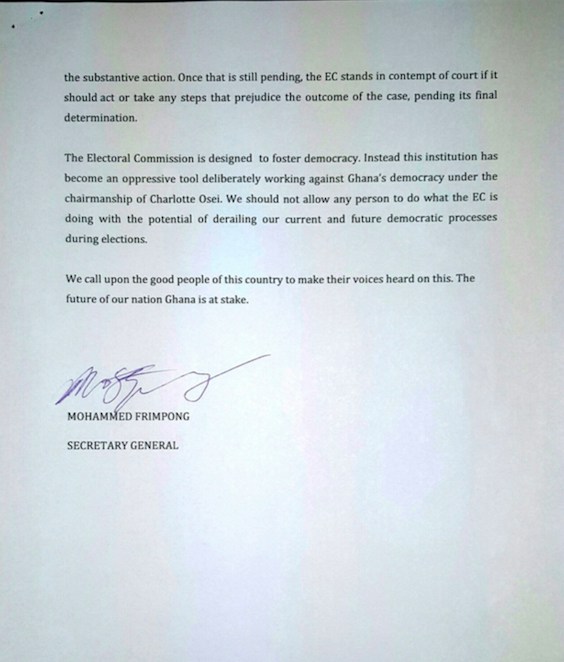 –
By: Jonas Nyabor/citifmonline.com/Ghana