A plane carrying 81 people, including a top Brazilian football team, has crashed on its approach to the city of Medellin in Colombia, officials say.
Reports say there are six survivors. The plane reported electrical problems.
The chartered aircraft, flying from Bolivia, was carrying members of the Chapecoense football team, airport officials said.
The team was due to play in the final of the Copa Sudamericana, against Medellin team Atletico Nacional.
The first leg of the final of the cup, South America's second most important club competition, was scheduled for Wednesday, but has now been suspended.
The South American Football Confederation (Conmebol) said it was suspending "all activities".
The team, from the southern city of Chapeco, was promoted to Brazil's first division in 2014 and reached the final last week after a victory against Argentina's San Lorenzo.
Reports say the British Aerospace 146 short-haul plane, operated by Bolivian charter airline Lamia and carrying 72 passengers and nine crew, crashed in Cerro Gordo in the municipality of La Union shortly before midnight local time (05:00 GMT).
According to an airport press release, it was reporting an electrical fault to the control tower.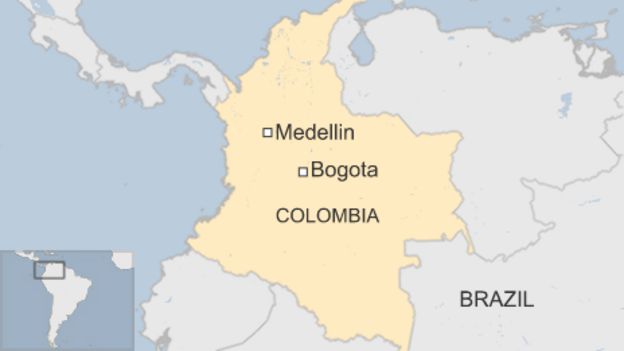 Medellin's Mayor Federico Gutierrez described it as "a tragedy of huge proportions".
The Jose Maria Cordova de Rionegro airport, which serves Medellin, posted on its Twitter account: "Confirmed, the aircraft licence number CP2933 was carrying the team @ChapecoenseReal. Apparently there are survivors."
It later said in a statement that "all possible aid was being mobilised because six survivors are being reported".
Poor weather has meant that the crash site, in a mountainous area, is only accessible by land.
However, there was no fire on impact, which has given rescuers hope that more survivors may be found.
CONMEBOL said in a statement that its president, Alejandro Dominguez, was on his way to Medellin.
"The CONMEBOL family greatly regrets what happened. All activities of the confederation are suspended until further notice," it said.
Chapecoense football team
Founded in 1973.
Promoted to the Brazilian top division, Serie A, for the first time in the club's history in 2014. Currently ninth.
Were flying to play in the first leg of the final of the Copa Sudamericana – winner qualifies for Copa Libertadores, top continental competition in South America.
Were underdogs – facing current Cope Libertadores holders Atletico Nacional
Based in the Brazilian city of Chapeco in the state of Santa Catarina.
Brazil's 21st biggest club in terms of revenue at 46m reais ($13.5m/£10.9m)
–
Source: BBC