The National Democratic Congress (NDC) parliamentary candidate for the Bortianor Ngleshi Amanfrom Constituency, Bright Demodzi, is fighting a losing battle ahead of the 2016 polls, a constituency executive has said.
Citi News' Constituency Watch team revealed the rift between the MP, his executives and the NDC supporters on the ground and now the NDC's constituency Organizer, Mawuyeram Emmanuel Kojo Asae, has said it will take a miracle for him to win back the seat.
[contextly_sidebar id="AfAAcipIG79WyksuufTromc2BMePLcri"]In an interview with Citi News' Umaru Sanda Amadu, he said, "he [Demodzi] himself does not realize that this point, he has already lost the seat… he has already lost the seat on the ground. It will take a miracle for my MP to win the seat."
Mr. Asae comments come after being called politically immature by Mr. Demodzi publicly criticising the MP without resorting to party structures.
Asae will still campaign for Demodzi
Despite the criticism and the bleak outlook of the NDC MP's chances, Mr. Asae said he was still campaigning for Mr. Demodzi as that is still his duty to the NDC.
He explained that,"there is no way I can campaign for anybody… It is my job as a constituency executive to defend the party and I am doing that because I have to campaign for my President and campaign for my MP whether he has lost already."
Mr. Asae however continued with the pessimism by likening the Bortianor Ngleshi Amanfrom constituency, a stronghold of the NDC, to strongholds of the opposition New Patriotic Party (NPP) in the Ashanti Region.
"There are constituencies in the Ashanti Region that we know we can never win those seats but normally we try to do campaign there. It is also done to get more votes for the President. That is exactly what we are doing," he said.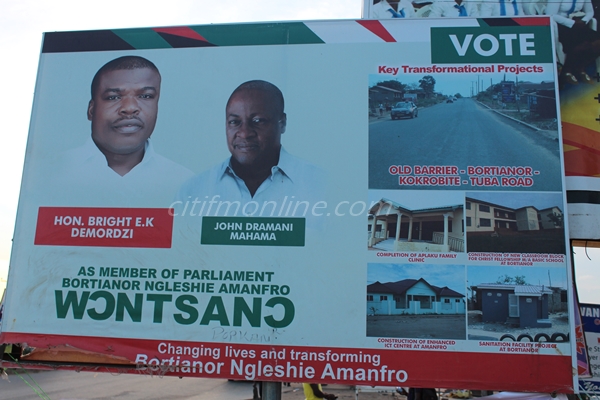 Demodzi immature for not sensing defeat
Only four of the 27 constituency executives are solidly behind Mr. Demodzi, according to Mr. Asae and he believes the MP is exhibiting his own degree of naivete and political immaturity if he cannot see the impending defeat.
"So if you have a team of 27 and only for are following you. Others are also campaigning on different platforms and up till now it is not clear to you that you are losing the election or you have lost in advance then I am surprised."
"I don't even know if he is the premature politician or a premature born politician because he should understand and know the fact that election is about numbers," the constituency Organsier stated.
–
By: Delali Adogla-Bessa/citifmnline.com/Ghana