The two main parliamentary candidates for the Weija-Gbawe constituency may have settled their differences amicably.
A new photo of the two that has gone viral on social media shows Obuobia Darko-Opoku of the governing National Democratic Congress (NDC) and Tina Mensah of the New Patriotic Party (NPP) facing each other and holding hands in a public prayer.
[contextly_sidebar id="e4wrtGh5RtXGtdk9MtMVnDN4sVU3qEhi"]Citifmonline.com sources say the photo was taken at the Ebenezer Presbyterian Church at Mendskrom in the constituency on Sunday [October 30].
The two were invited by the Church to participate in its annual harvest.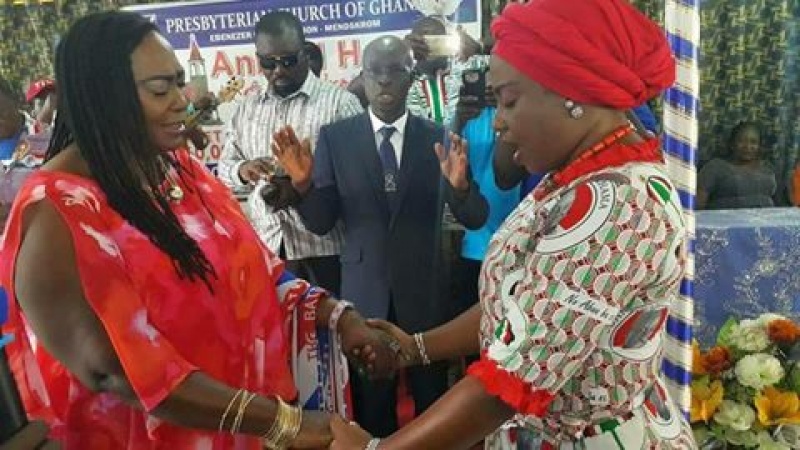 The heated campaign in the constituency seemed to have caused some enmity betweeen the two.
Both parties have been axtively seeking to secure influence in the constituency in the run-up to the December polls.
Recently, supporters of the two candidates engaged in a face-off when loyalists to Tina Mensah tried to stop Obuobia Darko-Opoku from donating an ambulance to the Gas South Municipal Hospital.
According to Tina Mensah, Obuobia was taking advantage of her position as the Deputy Director of the Ghana Free Zones Board to undertake such government gestures and touting them as her personal projects.
A parliamentary debate organized by National Commission for Civic Education (NCCE) with support from the Coalition for Domestic Elections Observers (CODEO) and the Centre for Democratic Development (CDD-Ghana) for the candidates of the constituency had to be rescheduled last week after Tina Mensah boycotted it, alleging that the questions had been leaked to Obuobia.
The Weija-Gbawe constituency has been identified as one of the key constituencies to watch in the upcoming elections.
–
By: Jonas Nyabor/citifmonline.com/Ghana