The incumbent National Democratic Congress (NDC) Member of Parliament for the Salaga South constituency in the Northern Region has launched his campaign with a call on the electorate to ignore the opposition New Patriotic Party (NPP)'s call for change on December 7.
According, Alhaji Ibrahim Abubakari Dey, the Nana Akufo Addo led NPP is using deceit on their campaign platforms to win political power.
He maintained that the opposition NPP under the leadership of Nana Akufo Addo has nothing new to offer Ghanaians.
The Salaga South MP said President John Dramani Mahama deserved a second term to accomplish his transforming lives agenda.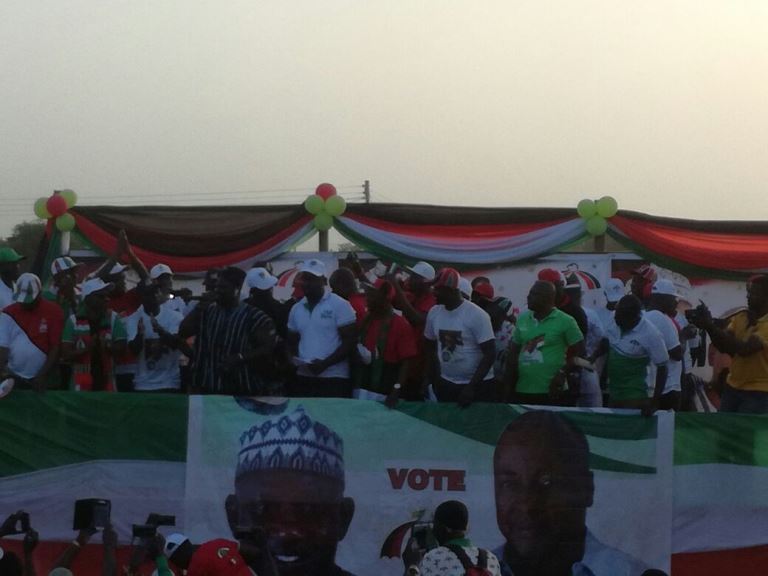 He disclosed President Mahama's intention to create a new district out of the East Gonja district as means of decentralizing the local governance system in the area.
He recalled the creation of the Salaga North constituency to buttress his point.
"When we came in 2009 the Salaga constituency was only one constituency. We didn't have Salaga South and Salaga North constituencies. The NDC government based on its innovation split the constituency into two."
Alhaji Ibrahim Abubakari Dey said he has so far built 35 schools in the constituency.
As the Salaga South MP, he also mentioned water delivery and electricity connection to several communities as part of his achievements.
"We did 64 boreholes and anybody who challenges me the records are there at the district assembly. And we also constructed boreholes at Kafaba, Sabonjida and Abrumase among others."
He assured his constituents of more developmental projects when they retain him and the NDC government in power.
"For the past eight years what the NDC government has done nobody has ever done half of it in this country and we have a lot to do."
A member of the NDC regional council of elders, Lawyer Mohammed Alhassan Terror inducted the campaign team into office.
He described Alhaji Ibrahim Abubakari Dey as President John Dramani Mahama's walking stick in Gonjaland.
Lawyer Mohammed Alhassan Terror thereby appealed to the Salaga South constituents to give President Mahama and Ibrahim Dey ninety percent of their votes on December 7.
Alhaji Ibrahim Abubakari Dey in 2008 defeated the NPP's Alhaji Boniface Abubakari and is seeking a third term in Parliament.
Ibrahim Mahama donates campaign logistics
The Chief Executive Officer of Engineers and Planners, Ibrahim Mahama donated five motorbikes and four outboard motors to the Salaga South MP.
The NDC's national campaign Spokesperson, Joyce Mogtari Bawa in a similar fashion donated four motorbikes to the Salaga South Legislator.
Hundreds of NDC supporters in the Salaga South constituency attended the campaign launch.
–
By: Abdul Karim Naatogmah/citifmonline.com/Ghana