The 2016 presidential candidate of the opposition New Patriotic Party (NPP), Nana Addo Dankwa Akufo-Addo, has admonished students across the country to be mindful of the choices they make in this year's elections, and stay clear off voting for President John Mahama for another four years.
According to Nana Akufo-Addo, ever since President Mahama assumed office, Ghana's economy has systematically shrunk, resulting in high levels of unemployment, rising costs of living, widespread hardship and suffering, and the creation of a future of hopelessness for the millions of Ghanaian youth.
To this end, the NPP flagbearer is appealing to students to vote for him and the NPP in this year's elections, in order to secure their collective future.
Nana Akufo-Addo made this known on Thursday, October 13, when he addressed thousands of students at the Pentecost University College, as part of his tour of the Anyaa Sowutuom constituency.
"Usually, when people come to speak to you (students), they talk about the future. This is because you are the future. But, I am going to say something a bit different. Every year, since John Dramani Mahama became President, our economy has shrunk, and this year, we are going to have the slowest growth of our economy for 22 years," the NPP flagbearer said.
The sad state Ghana currently finds herself in, according to Akufo-Addo, implies "that your ability to walk out of here and get a job is being compromised right now. What I am trying to leave with you is that, four more years of John Dramani Mahama will mean that you have no future to look up to."
Thus, the NPP flagbearer stressed that, "the responsibility for you (students) is not about tomorrow, it is about today. That, together, all of us will make sure that the threat to our future that Mahama represents is removed in December, once and for all, so we can return our country onto the path of progress and prosperity."
He continued, "I am saying to you, (this election) is about your future. It is about now. If we continue on the path we are on now, let me repeat it, there will be no future for you to inherit. So the task is a simple one. In peace and in dignity, let's put Mahama aside, let's bring Akufo-Addo and let's chart a new direction for Ghana."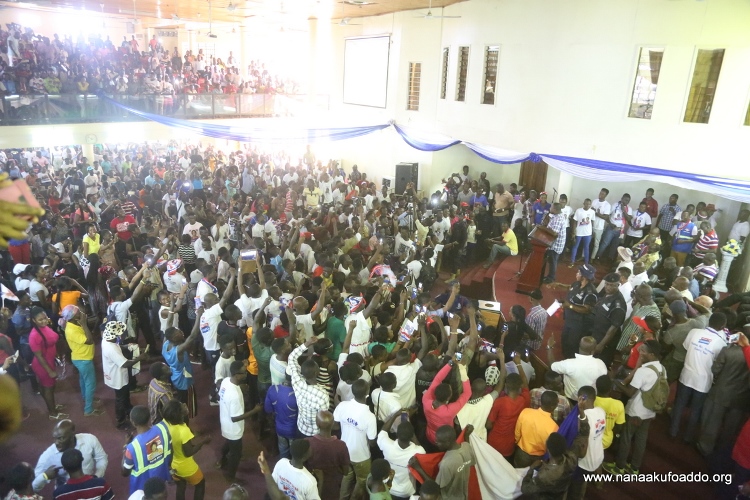 The NPP flagbearer assured that, the direction he is offering the people of Ghana is one which will "concentrate on growing our economy and making sure there are more and more jobs available for the young people of our country. That is the vision which we are working for our country, and it is what we will do when we are in office."
He thus urged all students across the country not to stay at home on December 7, stating that "that day, 7th of December, is indeed about you and your future."
Whilst in the constituency, Nana Akufo-Addo also visited the Alhaji Station, Sowutuom Last Stop, Anyaa Market and the Ablekuma Tipper Station.
–
By: NPP Communications//Ghana