Donald Trump has criticised the moderator in the first US presidential debate, Lester Holt, for being tougher on him than on Hillary Clinton.
He also complained about his microphone crackling and being at a lower level than Mrs Clinton's.
The two candidates clashed over jobs, temperament and tax in a debate watched by up to 100 million viewers.
Opinion polls give Mrs Clinton a slight edge, with a majority of voters declaring her the winner of the debate.
Although Mr Trump told reporters immediately after the debate that Lester Holt had done a good job, he accused him of a left-leaning performance the next morning.
"He didn't ask her about the emails, he didn't ask her about the scandals, he didn't ask her about the Benghazi deal. He didn't ask her about a lot of things he should have asked her about. Why? I don't know," he said, speaking to the US news programme Fox and Friends.
He said Mr Holt had been much tougher on him: "You look at it, you watch the last four questions, he hit me on birther [Mr Trump's past allegation that President Obama was not born in the US], he hit me on a housing deal from many years ago, that I settled on with no recourse and no guilt… that's a beauty to be asked, a 40-year-old lawsuit."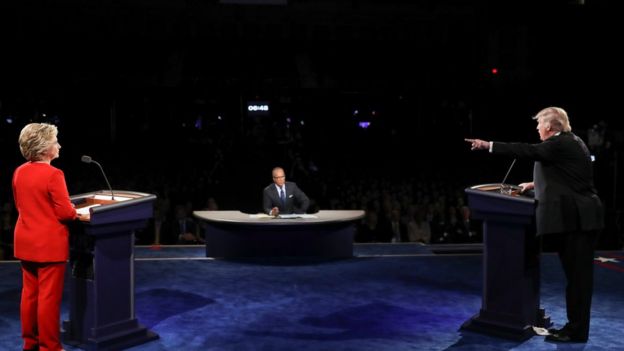 He also said his microphone was "terrible" and crackled, and that his volume was lower than Hillary Clinton's microphone. He blamed it for what some listeners thought were sniffles by Mr Trump during the debate.
Asked to rate Hillary Clinton's performance, he said he would give her a C-plus, but he declined to grade himself. "I think I really did well when they asked normal questions," he said, but added he naturally struggled when asked "unanswerable" ones.
On what he might do differently: "I may hit her harder in certain ways. You know, I really eased up because I didn't want to hurt anybody's feelings. So I may hit her harder in certain ways."
The debate
Hours before the programme, polls suggested the candidates were locked in a dead heat, adding to the tension between the rivals on stage throughout the debate.
"I have a feeling that by the end of this evening, I'm going to be blamed for everything that's ever happened," Mrs Clinton quipped when prompted to respond to one of Mr Trump's attacks.
"Why not?" Mr Trump interrupted.
"Yeah, why not," she answered. "You know, just join the debate by saying more crazy things."
Mr Trump was later thrown on the defensive by Mr Holt for not disclosing his tax returns.
He claimed he was under a "routine audit".
But the hotel developer promised he would release them if his opponent released 33,000 emails that were deleted during an investigation into her private email set-up while secretary of state.
Mrs Clinton made a brief response to Mr Trump's attacks about her use of a private email server – which has haunted her on the campaign trail. She said there were no excuses for the "mistake" and that she takes responsibility for it.
Other debate highlights:
He said she did not have the stamina to be president, to which she replied that she visited 112 countries and endured an 11-hour congressional hearing as secretary of state
African-Americans are living "in hell" in the US due to gun violence, Mr Trump said
Mrs Clinton criticised him for saying climate change was a Chinese hoax
She was attacked by him for being weak on Islamic State militants and soft on Iran
"You've been fighting Isis [Islamic State group] your entire adult life," Mr Trump mocked
In a wider assault on his treatment of women, she said he had called women "pigs, slobs and dogs"
One key exchange was over Mr Trump's long-held belief that President Barack Obama was born outside the US, a position he finally reversed two weeks ago.
"He has a long record of engaging in racist behaviour," she said, adding that it was a "very hurtful" lie that annoyed and bothered the first African-American president.
When asked by Mr Holt to explain his change in stance, he said he wanted to concentrate on bigger, more important issues.
So who did best? Analysis by Anthony Zurcher, BBC News, Washington
Donald Trump is the consummate salesman. Rules, tradition, even the truth are only relevant in so much as they help seal the deal.
The weaknesses of this approach is the perception that the salesman is all talk and no substance – a problem that can be exacerbated by 90 minutes under the debate spotlight.
In the end, the lawyerly preparations paid off for Mrs Clinton as she controlled the evening with forensic precision.
While Trump had a strategy – and pursued it on occasion – he was often blown off course by the former secretary of state and torpedoed by his own sometimes badgering performance.
While Mrs Clinton was occasionally prone to know-it-all-ness – particularly in her repeated appeals to outside fact-checkers – she largely maintained the upper hand.
What do the polls say?
A CNN/ORC poll taken after the debate found that 62% of voters who had watched the head-to-head thought that Mrs Clinton came out on top, with just 27% giving it to Mr Trump.
This is based on interviews with 521 registered voters chosen as part of a random national sample. But only 26% identified themselves as Republicans while 41% identified themselves as Democrats.
An informal CNBC poll on its website found that 61% of people thought that Mr Trump won while 39% went for Mrs Clinton, but as CNBC itself points out, the poll is not scientific – anyone, including people outside the US, appears to be able to vote.
A post-debate survey by Public Policy Polling of 1,002 debate-watchers found that 51% of national voters thought Mrs Clinton had won, with 40% choosing Mr Trump and 9% undecided.
The US media view
New York Times – The editorial board was unimpressed with the debate, saying "when just one candidate is serious and the other is a vacuous bully, the term loses all meaning". Opinion writer Nick Kristof said Trump had "hurt himself", others said Mrs Clinton had "crushed" her opponent.
Washington Post – Writers unanimously called it for Mrs Clinton, saying Mr Trump had "bombed on the ultimate reality show" and "did not appear ready to be president".
Fox News – Pundits said Mr Trump had "struggled", "never took control" and "failed to exploit" the issue around Mrs Clinton's emails. "It helps to be prepared," one writer told the Republican candidate.
LA Times – Its panel of three commentators had Mrs Clinton winning every round. "Politics is harder than it seems, and Trump found that out tonight," said one. "Clinton was unflappable… and probably likeable enough," said another.
Breitbart – Writers at the hard-right news website said Mr Trump had "bludgeoned" Mrs Clinton on trade and accused Lester Holt of "shilling" for Mrs Clinton. Some 75% of readers said Mr Trump had won.
The Hill – Pundits consulted by the Washington politics website said Mrs Clinton had won, but in a poll its readers called it for Mr Trump.
New York Daily News – The tabloid's verdict: "A grumpy loser! Trump pesters, interrupts Hillary throughout debate – but Clinton gets the last laugh."
And the fact-checkers?
The much-vaunted role of fact-checkers in this debate was perhaps not as central as many expected it to be.
Mrs Clinton's denial that she had called the proposed Trans-Pacific Partnership the "gold standard" of trade agreements was called out by fact-checkers, as was Mr Trump's denial that he had called climate change a hoax invented by the Chinese.
Was Trump guilty of 'mansplaining?'
Mr Trump is said to have interrupted Mrs Clinton three times more than she interrupted him during the debate, leading to accusations that the Republican was engaging in sexist behaviour by attempting to assert male dominance.