An anti-corruption campaigner, Sydney Casely-Hayford, has chastised successive governments for failing to deal effectively with illegal mining in the country.
According to him, unless a clear strategy is created  to deal with 'galamsey' as it is locally known, by the two leading contenders in this year's election, the National Democratic Congress (NDC) and the New Patriotic Party (NPP), neither party deserves to be in power.
[contextly_sidebar id="dKHn7MvX0cNFe0yYz01WgTUrVhNl04u9″]"If we are not careful and we keep doing what we are doing now, paying lip-service to this galamsey thing when there are major players, encouraging mining of the river beds, conniving with foreigners in order to be able to tap into the river bed because there's a semblance of wealth. There has to be some wealth in there because if there wasn't, people would not be going in there and committing suicide by digging holes and expecting that it will stay safe," he said on Citi FM's news analysis programme The Big Issue
"We set up a task-force to combat galamsey but for as long as our governments turn a blind eye towards this disaster that is going on, neither one of them deserves to be in place."
The Kyebi Water Treatment plant, which serves much of the Eastern Region,  was shut down last week because the water is no more treatable due to the effects of galamsey.
However, Sydney Casely-Hayford believes that the negative effects of galamsey go beyond untreatable water, as the soil is also being polluted, affecting farming activities in these areas.
"I look at what is going on and I trust that the Minister Lands and Natural Resources, as well as the Minister for Environment, have all been around to see the extent of devastation," he said.
"The pollution isn't only affecting the water, it's affecting the soil around because the water seeps into it. We are killing the people who live in those areas for the sheer lack of non-performance, we're not doing anything. "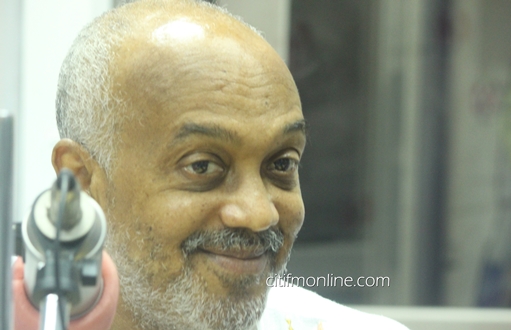 Create jobs in galamsey areas
Several arguments have been made that clamping down on galamsey in certain areas would destroy the only source of income for the youth in those communities and create a potential threat to national security.
According to Sydney, government could create alternative sources of income for the people in these areas to take advantage of to pave way for decisive action to be taken against illegal mining activities.
"We have many laws. There is a small scale mining law which if we applied properly, we wouldn't have any of these issues. We have declared that galamsey is illegal but there is a fight back. They fight back on a cultural level and a socio-economic level, telling you that if you stop them from doing this illegal small-scale mining, they'll have no livelihood and the next thing you'll have is a national security alert. If that is the case, why don't you create enough employment there so that they will have something to do," he said.
"Why should they take the easier option of allowing the water bodies to be continuously polluted, rather than take the more difficult road of ensuring that we have enough rural community development at the district level so that everybody who lives there and wants to live there will have something to do rather than destroying the environment for the future ."
–
By: Edwin Kwakofi/citifmonline.com/Ghana