There should have been laws to punish Minority MPs over their failed attempt at filing a motion to probe President John Mahama's acceptance of a Ford gift, the General Secretary of the National Democratic Congress (NDC), Johnson Asiedu Nketiah has said.
Legislators were summoned from their recess on Thursday over the matter, in which the President received a $100,000 Ford expedition from a Burkinabe contractor who is said to have subsequently benefited from some lucrative government contracts.
[contextly_sidebar id="YwhtVQS9r8St0feG5hQb6D46Y7KdP20I"]However the Speaker of Parliament, Edward Doe Adjaho, dismissed the motion explaining that the right body to investigate the matter was the Commission on Human Rights and Administrative Justice (CHRAJ).
The fact that CHRAJ is already investigating the matter rendered the motion for an early recall of Parliament needless, thereby constituting financial loss to the State, in the view of Mr. Asiedu Nketiah's eyes.
Speaking to Citi News after the brief sitting, the NDC General Secretary held that "People should begin to be charged for willfully causing financial loss to the State. The provisions are very clear in the constitution as to how these matters are handled. Everybody in this country knows that those matters are being handled according to the constitution by CHRAJ."
"If the law mandates certain constitutional bodies to undertake certain responsibilities, you don't go and conduct yourself in ways the will take away from the authority of those bodies from discharging their constitutional responsibilities," Mr. Asiedu Nketiah further said, as he noted that, the Minority had also undermined the authority of CHRAJ with their actions.
Speaker should have power to reject certain motions
Mr. Asiedu Nketia also suggested that, the Speaker of Parliament be given powers to reject certain motions deemed unnecessary; because in this instance, the Minority simply fell back on Article 112:3, which he explained gave them "power to summon parliament leaving the speaker with no discretion than to summon parliament at this great cost."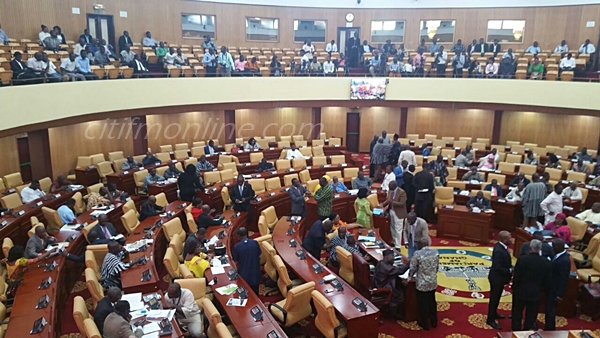 "If we look at it and we see that from the practice, we see that there was a clause that should be added to article 112:3 to give the Speaker discretion to examine the cause for the request for the summoning of Parliament, so that the Speaker will now be empowered to examine the reason why you want to recall Parliament," he said.
Minority acted in bad faith
The Majority Chief whip in Parliament, Mohammed-Mubarak Muntaka, also expressed some displeasure with the Minority's motion saying it acted in bad faith in pursuing the case since CHRAJ is already investigating the matter brought before it by both the Progressive People's Party (PPP), and the youth wing of the Convention People's Party (CPP).
"In law, the process of doing something is as important as the matter itself. So you can't jump the process. All they [Minority] were doing was in bad faith because the matter was being investigated," he explained.
–
By: Delali Adogla-Bessa/citifmonline.com/Ghana