German Chancellor Angela Merkel's allies have urged her to change course on refugees after her governing CDU party was beaten in a regional election by an anti-immigrant party.
The right-wing AfD party, only formed three years ago, came second in the chancellor's home state of Mecklenburg-West Pomerania, polling 21%.
One senior CDU figure blamed the mass influx of refugees without documents.
Some 1.1 million refugees and migrants entered Germany in 2015.
Many of them arrived after the government decided to loosen border controls just over a year ago.
The AfD leader in Mecklenburg-West Pomerania, Leif-Erik Holm, suggested that "perhaps this is the beginning of the end of Angela Merkel's chancellorship".
AfD (Alternative fuer Deutschland) now has delegates in nine of Germany's 18 states.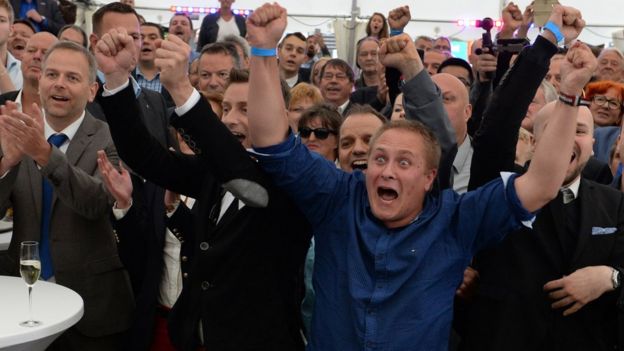 "It's a debacle for Angela Merkel and her refugee policy," said Edmund Stoiber, honorary chairman of the Bavarian-based CSU, the sister party of the CDU.
It was not enough to criticise the AfD's voters, he argued – the CDU had to understand why people were losing faith in its policies.
Mr Stoiber called for a limit on the number of people entering Germany.
How the parties polled:
SPD (centre-left Social Democrats): 30.6%
AfD: 20.8%
CDU: 19%, its worst-ever showing in the state
The CDU is in coalition nationally with the SPD, and also regionally in Mecklenburg-West Pomerania, although that may now change.
Wolfgang Bosbach of the CDU said the arrival of hundreds of thousands of migrants without documents had "put the wind in AfD's sails". CSU Secretary General Andreas Scheuer spelt out that what was now needed was a cap on refugee numbers and better integration and repatriation of failed asylum seekers.
Angela Merkel visited the north-eastern state twice in recent days as opinion polls indicated her party was heading for its worst ever performance there.
She gave a defiant interview on immigration, insisting that change was not a bad thing and that "Germany will remain Germany, with everything that is dear to us".
Although the chancellor's popularity has fallen nationally, she still has 45% approval ratings and has yet to decide if she wants to run for a fourth term in September 2017 elections.
–
Source: BBC