Policy think tank IMANI Ghana, will today, [Thursday], release findings of a pre-election survey it conducted in the country ahead of the 2016 polls in December.
The survey dubbed: "Aligning the visions and promises of political parties with the challenges and problems of the Ghanaian voter" is aimed at among other things weighing the level of interest of prospective voters on matters of national importance.
The event will be held at the 9:00am at the Mensvic Hotel, East Legon in Accra, and will also be aired live on Citi FM97.3 and online on www.citifmonline.com.
"As a follow up to IMANI's pre-election reports and analysis of campaign promises, and in a bid to further deepen the understanding of Ghana's unique democratic landscape in the run-up to what is possibly an election that will define a pivotal stage in Ghana's socio-economic evolution, IMANI conducted a nationwide survey to understand the what voters thought about policies and projects of the ruling government in the last four years and more important the aspirations of voters based on what issues they ranked as paramount for the next four years," a statement from IMANI added.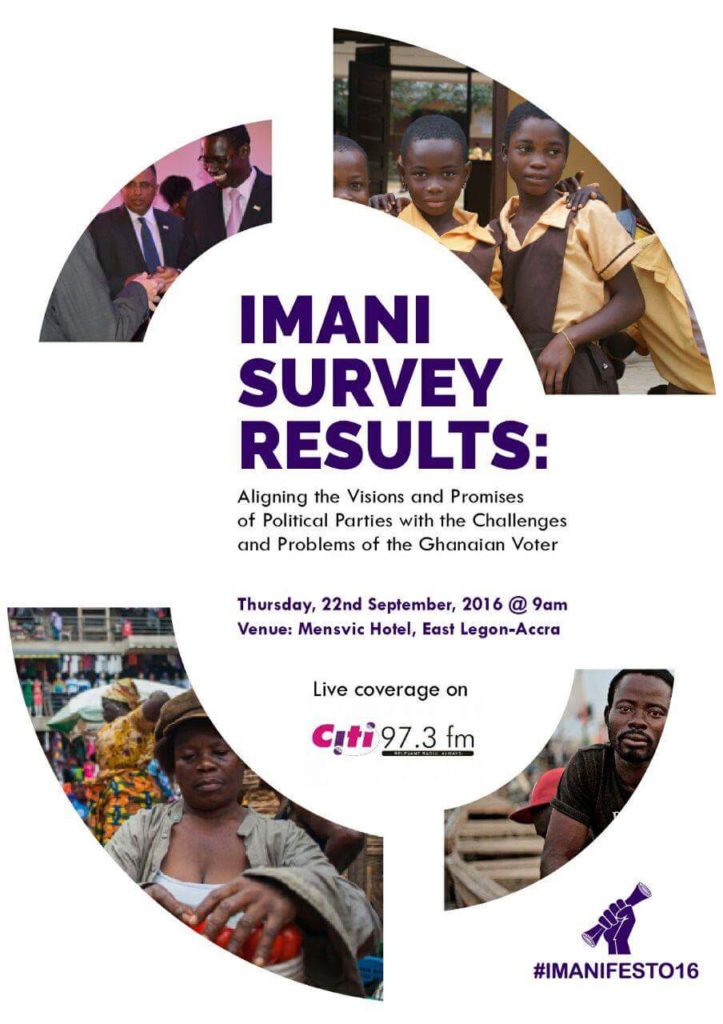 The think tank in the statement noted that, a total of 10,020 respondents drawn from all the ten regions in Ghana were sampled "and were asked to rank their expectations around some projects and several overriding themes.
These included Governance, Gender Issues, Health, Education, Agriculture, the Economy and Infrastructural Development."
The objectives of the survey were as follows:
To weigh the level of interest of prospective voters on matters of national importance
To seek to highlight which issues Ghanaian voters are passionate or care most about
To determine if there are patterns among common interests
To determine if there are any trends of note across the country with regards to issues
To estimate whether the weight of an issue can tilt higher voter responses in a particular direction
IMANIFESTO 2016
IMANI Ghana has in the last few weeks analyzed campaign promises made by political parties, some on campaign platforms, and others in their manifesto.
The policy think tank observed that, out of the 247 promises made collectively by six major political parties in the country, only 18 can be assessed.
–
By: Godwin A. Allotey/citifmonline.com/Ghana
Follow @AlloteyGodwin