A freelance journalist, Lord Kweku Sekyi, has appealed to the Inspector General of Police (IGP), John Kudalor, to remove the Central Regional Police Commander, Kwame Tachie-Poku from his post for the failure of his outfit to ensure the security of celebrants during the celebration of the Fetu Afahye Festival in Cape Coast.
According to Lord Sekyi, several crimes were committed on Saturday night and in the early hours of Sunday morning aided by the fact that there was no police presence in the town.
[contextly_sidebar id="pxVdMDMrAOyxEBDgPAmj7V0snVH2qe2G"]"Last night in Oguaa was crazy and there was no police at all in town. That's the biggest night of the year, and we saw no police. There was chaos and a lot of crimes especially after 2 am. The police were nowhere to be found," he said
He added that some robbers 'created a barrier' in front of one of the major shops in the town and accosted people who passed by, robbing them of their personal effects and money.
"Armed robbers (from Takoradi) were on the streets — in front of Kingsway. They created a barrier in front of Melcom and robbed everyone in every car that came there," he wrote.
He narrated that, when complaints were filed at the Bakano Police Station, the two policemen on duty at the time told the victims " including several terrified women who had had their bags and smartphones taken, to go and arrest the thugs and bring them to be jailed."
The situation apparently forced some youth of the town to take up weapons in a bid to protect themselves, adding to the already tense atmosphere.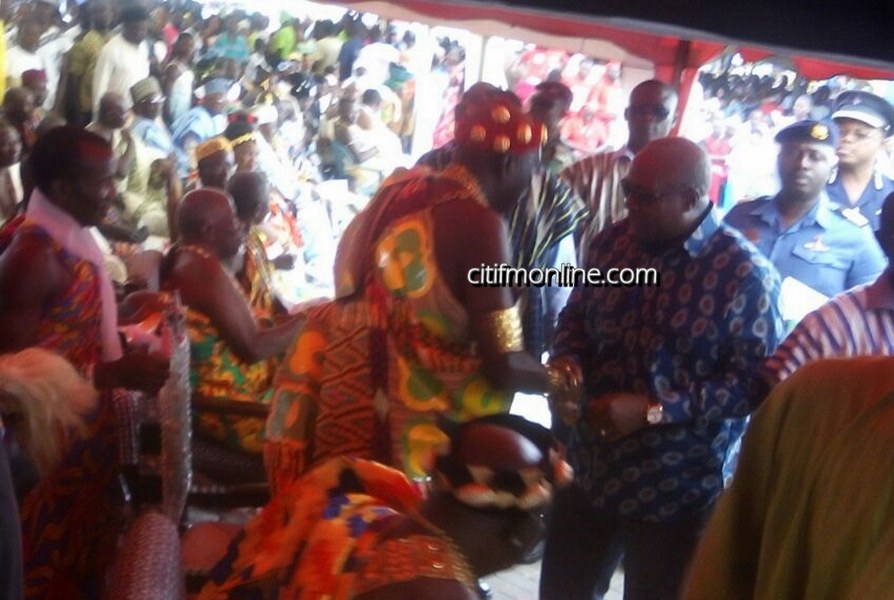 Mahama joins Oguaa to celebrate Fetu Afahye
President Mahama was in the town on Saturday as he joined the chiefs and people of Oguaa to celebrate the festival.
He was accompanied by the Central Regional Minister, Kwaku Rickett Hagan, First Deputy Speaker of Parliament Ebo Barton Odro, Chairman of the National Democratic Congress in the region, Allotey Jacobs and other government officials.
Although hundreds of people had gathered for the celebrations, there were no signs of unrest at the time.
Oguaa under the spotlight again
Oguaa was in the headlines last month after the Oguaa Traditional Council lifted a noise-making ban in the area ahead of the National Democratic Congress (NDC)'s campaign launch.
Claims that they had been bribed by the governing party to lift the ban were denied by the Council, who stated that the NDC approached them with explanations which they found reasonable for the lifting of the ban.
–
By: Edwin Kwakofi/citifmonline.com/Ghana