Finance Minister, Seth Terkper has accused the New Patriotic Party's (NPP) running mate for the 2016 elections, Dr. Mahamudu Bawumia of selectively using the data on government for his lecture yesterday, September 9, 2016.
According to Mr. Terkper, it is unrealistic for the NDC to borrow 39.9 billion US dollars as announced by Dr. Bawumia since that will be equivalent to Ghana's GDP.
[contextly_sidebar id="WnTtQZfbCyc0qFaiIon0te3ociNfJ22Z"]At the lecture titled, 'The State of the Ghanaian Economy – A Foundation of Concrete or Straw', Dr. Bawumia chastised government's continuous borrowing warning that the country's debt in dollar terms, would reach as much as $42 billion by the end of December 2016.
"By the end of 2008 following the adoption and implementation of the HIPC initiative, the government's policy framework of fiscal discipline, the country's debt to GDP ratio, had declined from 189% in 2000, to 32% of GDP by 2008. Indeed from independence in 1957 to 2008, Ghana's total debt was 9.5% Billion Cedis; however; in the last seven years alone under this NDC government, Ghana's total debt has ballooned from 99.5 billion cedis to 100 billion cedis in 2015; and a 105 billion cedis by May 2016. In fact, 66% of Ghana's debt from independence; has been accumulated under the presidency of John Mahama in just the last three and half years."
But speaking to Bernard Avle on the Citi Breakfast Show, Mr. Terkper insisted that with figures used by Dr. Bawumia, Ghana's debt to GDP ratio would be 100 percent but the reverse is the case since Ghana's debt has rather being going down.
"If indeed the NDC borrowed 39.9 billion dollars, and we are at  70 percent, even if I grant you 70 percent of GDP which is below 40, then Ghana's debt  will be 28 billion dollars. Either you have a record performer of the NDC with paying debt in real terms from Dr. Bawumia's 47 billion to 28 billion that will be a record, or as I said Dr. Bawumia is using information selectively. When it suits him he holds the cedi to the dollar constant, when he goes on attack against the NDC he relaxes that principle," he said.
He stated that when it comes to computations involving GDP, growth and other macroeconomic indicators figures must be used throughout in nominal terms or real terms.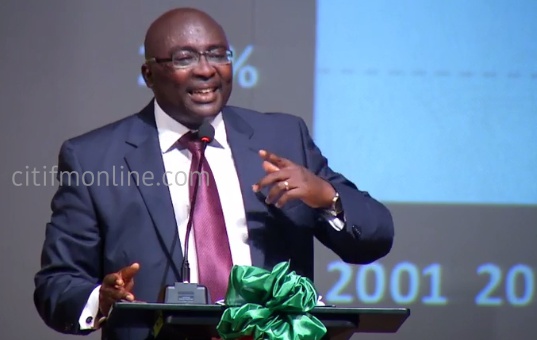 "Dr. Bawumia usually estimates at about 9 billion US dollars to nearly 40 billion dollars at 49 billion dollars. Ghana's debt to GDP ratio today therefore will be certainly more than 100 percent. Everybody agrees that our debt to GDP ratio is not above 100 percent," he said.
"Everybody agree to a figure at the end of last year of 72 percent. And if you analyze this year's figure everybody will agree that our debt to GDP ratio has been going down and it's between 63 and 43 percent if you add investment growth is not above 100 percent," he added.
When asked how much the government had borrowed, Mr. Terkper could however not state the exact figure.
–
By: Lawrence Segebfia/citibusinessnews.com/Ghana