The New Patriotic Party (NPP) has described comments made by President John Dramani Mahama on his ongoing tour of the Western Region about their flagbearer, Nana Addo Dankwah Akufo-Addo as unpresidential.
Nana Addo had bemoaned the state of roads in the region during his five-day tour of the region, criticizing the government for failing to honour its promise to fix the roads.
[contextly_sidebar id="GF87biJZjdX6AXULAL11CjAnqKC5voXb"]President Mahama, who is on the tour to kick-start the National Democratic Congress (NDC)'s campaign after it was launched last Sunday, hit back at Nana Addo, stating that the NPP flagbearer must have been sleeping to have missed the good work done by the government on the roads.
"During my campaign in 2012 , I realized that most of the roads here are very bad. I made the promise to invest heavily in roads here if I am elected President. I have kept my promise. Under the cocoa roads programme, most of the projects are in the Western Region. The majority of roads in this region, are many, I cannot name them. I heard someone came here and said he had not seen these roads. I am sure he was sleeping at the time," he said
However, addressing a news conference today [Wednesday], the Director of Operations for the NPP campaign, John Boadu, said the language used by the President at the start of his campaign was unfortunate and not befitting his position.
According to him, given the President's own intolerance for 'fair criticism', it was disappointing the response he had given to Nana Addo's valid concerns about the roads.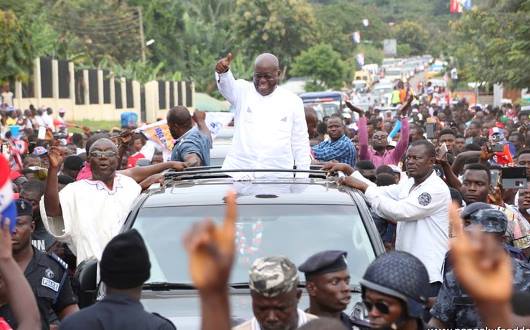 "The President, straight from Cape Coast, went to the Western Region following our candidate's campaign footsteps. The president had a false start by resuming campaign rounds with insults. We all know that John Mahama is too sensitive to fair criticism but it gives him no excuse to use 'unpresidential' language against his opponents, chiefs and the people of the Western Region."
Boadu, who is also the acting General Secretary of the NPP, believes that President Mahama's attack on Nana Addo was also a slight on the chiefs and people of the Western Region who had also complained about the poor roads.
"To him, all people complaining about bad roads in the Western Region are sleeping. During Akufo Addo's tour of the region, he saw for himself how bad roads affect economic and social activities of the communities there. Isn't this strange?," he said
Follow the hashtag #GhElections on Social Media for election-related stories
–
By: Edwin Kwakofi/citifmonline.com/Ghana