A press conference held by disgruntled National Democratic Congress (NDC) members in the Bongo Constituency of the Upper East Region, turned violent as supporters from the camp of the constituency's Parliamentary Candidate, Edward Bawa, attempted to prevent the programme from going ahead.
The disgruntled group known as the 'Lai Lai' group was scheduled to have a peaceful press conference to express dissatisfaction with the conduct of some constituency executives.
They were also unhappy with the District Chief Executive's open support for Edward Bawa, who doubles as a communication officer as the Ministry of Power before, during and after his victory in the party's primary.
According to them, that was a contravention of the NDC's election rules.
But the press conference was vehemently disrupted by supporters of Edward Bawa who had strategically positioned themselves at vantage points to distract and beat up organizers of the conference.
The organizers of the conference were compelled to relocate the venue to outside of the Bongo assembly after supporters of Edward Bawa had besieged the initial venue behind the Bongo post office.
Some supporters' of Edward Bawa also followed up to the conference grounds resulting in verbal confrontations and isolated cases of fighting between members of the two factions.
"We scheduled the conference behind the post office but this Edward Bawa supporters came to distract us. We wanted peace so we relocated to the assembly grounds to have our conference and they have followed up to distract our conference. Should we stand and watch them again distract the program? No, we will fight them and go on with our press conference" Mr. Eric Akobiga stated.
It took the intervention of the Bongo police to bring the situation under control, as the press conference was done under police supervision.
Capital Radio's Upper East Regional correspondent, Samuel Mbura, upon arrival at the grounds to cover the program was confronted and threatened by the constituency Secretary, Awinmakiya Stephen, over his reportage about internal issues in the party.
It took colleague Journalists and other party members to calm nerves.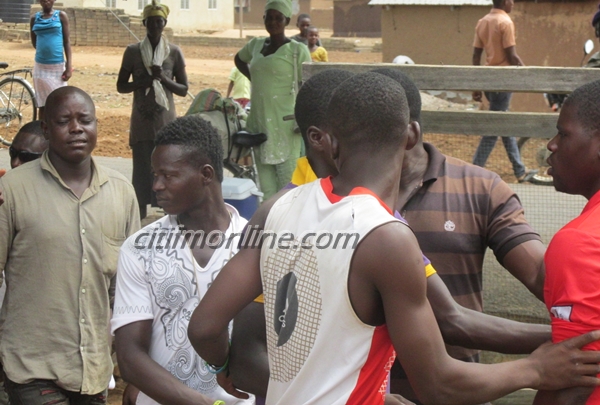 Information gathered by journalists to the effect that their lives were in danger,  necessitated a police escort for Journalists who covered the press conference from Bongo town to Yorogo-Madina to ride back to Bolgatanga.
The Bongo constituency, after the NDC's parliamentary primary, has been in disunity following unresolved issues between the NDC's Parliamentary Candidate Edward Bawa, and the other five contestants and their supporters, to the extent that, one of the contestants, Lawyer Charles Bawa, has threatened to go as an independent candidate.
The NDC mediation team led by the General Secretary, Mr. Aseidu Nketia, former Upper East Regional minister, James Zuugah Tiigah and other senior party members to resolve the outstanding internal issues in the Bongo constituency in February 2016, is yet to yield any result.
–
By: Fred Awuni/citifmonline.com/Ghana