After intense screening by the judges after the auditions, ten talented singers have been selected for the third edition of the Voice Factory, which has been dubbed 'The Gospel Edition.'
On Sunday (June 19), the ten contestants were on air to interact with the host of the show. This was to get the listeners to know more about the contestants, one of whom could become the next big thing in the gospel industry.
We bring you here, something short about the ten and some excerpts of what happened. In no particular order, here are your contestants for the Voice Factory, 'The Gospel Edition.'
Natasha Odoi
She believed she would qualify because according to her, the feedback from the judges during the auditions was good. Natasha complete the Valley View University two years ago and says that music is her passion, and that encouraged her to participate in the Voice Factory.
Maame Abena Ankomaa
Maame Abenaa is 17 and she loves gospel music. When she was asked how she plans to win the contest, she said that she will listen to what the judges say and make sure that she does what they say.
@maameankomah is on the #VoiceFactory hear her perform next week pic.twitter.com/adangyhiiU

— Sunshine Girl (@jessicacitifm) June 19, 2016
Elizabeth Joseph
Her father is Nigerian and her mother is Ghanaian. She says she cried when she heard that she had qualified for the contest. Of course, it was tears of joy. Elizabeth says she decided to participate in the Voice Factory because the contest is about the gospel.
#VoiceFactory Elizabeth Joseph likes to mingle she says. pic.twitter.com/qliL0QmIw1

— Sunshine Girl (@jessicacitifm) June 19, 2016

Ohenewaa Williams
Ohenewaa Williams lives with her mother and her sister. She studies political science at the University of Ghana, Legon and thinks that she is the one who will the prize GHc5000.
Godslove Cudjoe
Godslove is a student of the Ghana Institute of Journalism and is an entrepreneur. She says that she wants her music to touch people and encourage them not to let the devil steal their joy.
@PastGodslove is on the #VoiceFactory season 3. Follow her. pic.twitter.com/CFooAU6UfS

— Sunshine Girl (@jessicacitifm) June 19, 2016

Kwenorkie Adela
She looks reserved but Kwenorkie says that she is a very fun loving person. She believes that being herself can help her win the Voice Factory. According to her, music is in her blood because both of her parents sing.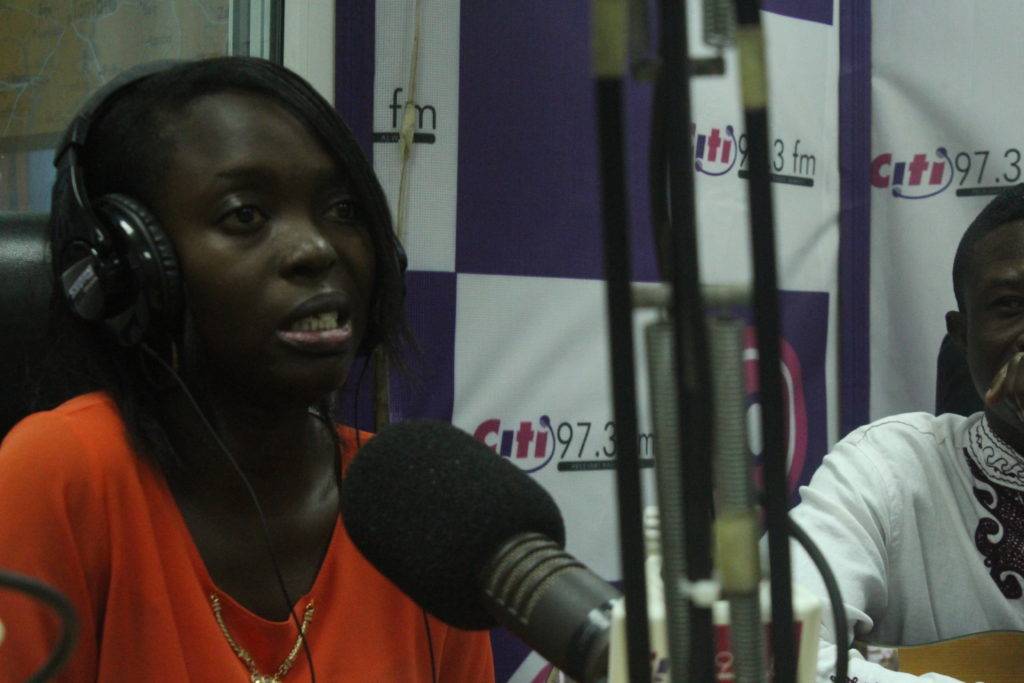 Kakra Mills Robertson
She's nineteen and will be going to the university in the next academic year. Kakra couldn't hide he excitement when she was in the studio.
Michelle Amankwaah
Michelle started singing when she was eleven. She's currently eighteen. According to her, the most daring thing she's done is auditioning before she was eighteen.
Carl Selasie
Carl works with a shipping company in Tema. He believes that if being himself is a strategy, then that's how he will win the Voice Factory.
Gerard Amavi
Gerard seemed to be popular one among the contestants. He says he is a shy person and is still working on his confidence, though it wasn't that obvious in how he talked.
–
By: Jeffrey Owuraku Sarpong/citifmonline.com/Ghana