Businessman Alfred Woyome is still maintaining his innocence in the 51 million Ghana cedis judgment debt paid to him.
According to Mr. Woyome, the money was genuinely paid to him after working for the country.
The Attorney General's Department had directed the Lands Commission to commence the process to value one of Woyome's houses in compliance with a Supreme Court ruling which ordered it to retrieve thw GHc51 million paid to the businessman.
[contextly_sidebar id="6WkKYAVrEmSQDVafjTfHis1309RvQVpt"]But speaking to journalists in Accra after he prevented officials from the AG's department and the Lands Commission from valuating his house as part of moves to retrieve the money, Mr. Woyome said he will use the law courts to save his assets.
He explained that the ruling by the High Court and the subsequent one by the Court of Appeal, vindicates him. He questioned the rationale for the AG's action.
"The High court and the Court of Appeal of the three wise men declared that all that I did was contractual and it was in 2005. The contract that they are linking me to, that it is unconstitutional, is a contract between Waterville and government of Ghana. I was not a signatory, my name is not mentioned, I was not there when they signed it and I'm not linked to that contract in any way."
Mr. Woyome also argued that claims that he took advantage of a change in government to run to court to demand payment of judgment debt to him "are untrue."
"They said I took advantage of a change of government; it is also untrue and the facts are there. I am not against any man in this country; I am for my rights as enshrined in the constitution," he added.
Woyome prevents officials from valuating residence
Woyome while resisting attempts to value his residence said the move was illegal.
"This is an illegality because there is a process which I showed them which the AG is aware of since March. My lawyer wrote to them today because the AG wrote and said there was no process and they attacked the process which they know about so I am wondering why they want this media drama."
" I am not going to stand here for such things again. It will not happen again so I am serving notice. You should understand that I have had enough of this, five years is enough.I will not be provoked because I know this media thing. I still maintain that what I did by going to court was right and I encourage every Ghanaian to do that. Do not be afraid of anything …" he added.
Background:
Alfred Woyome was paid ¢51 million for helping Ghana raise funds to construct stadia for purposes of hosting the CAN 2008 Nations Cup.
However an Auditor General's report released in 2010 said the amount was paid illegally to the NDC financier.
The report triggered nationwide controversy with critics accusing government of misappropriating funds.
Martin Amidu
In 2010, Martin Amidu was appointed Attorney General to replace Betty Mould Iddrisu [the then Attorney General].
That appointment and revelations in the 2010 Audit report changed the dynamics of the Woyome scandal.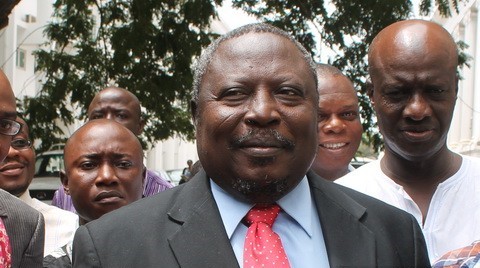 Amidu had Woyome arrested and charged for causing financial loss to the state.
Two others, including Nerquaye Tetteh, the chief state attorney were also arrested. Whilst prosecuting the case, Martin Amidu was sacked from government under mysterious circumstances with Marietta Brew Hammond appointed to take his place.
Civil Case
Martin Amidu however proceeded to the Supreme Court as a private citizen and managed to secure a judgement for the state to retrieve the millions of cedis paid illegally to Waterville.
The judges however stayed a verdict on the Woyome case Amidu brought before them, because the matter was pending before the High Court.
He later went for a review and had the court rule in his favour. Woyome was asked to refund the 51 million cedis to the state.
–
By: Godwin A. Allotey/citifmonline.com/Ghana
Follow @AlloteyGodwin