Citi FM's Nana Boakye-Yiadom has been selected for the 2016 Mandela Washington Fellowship of the Young African Leadership Initiative (YALI).
He is headed for the University of Illinois, Urbana Champaign for his fellowship, where he hopes to develop his leadership skills.
YALI was launched in 2010 by US president Barack Obama to invest in the next generation of African leaders and nurture them as they spur growth and prosperity, strengthen democratic governance, and enhance peace and security across Africa.
The Mandela Washington Fellowship takes young African leaders to the United States for 6 weeks of leadership training and mentoring at twenty U.S. universities and colleges in three areas: business and entrepreneurship, civic engagement and public administration.
The US Embassy Ghana announced Nana Boakye-Yiadom's selection on its Facebook page and outlined his dream to spread his NGO, iJourno Africa, across Africa so as to train young journalists in data journalism.
Brief profile of Nana Boakye Yiadom
2016 Mandela Washington Fellow Nana Boakye-Yiadom has close to ten years experience in journalism. He is also a media consultant. Currently, he is the Ghana correspondent for New York Times, RFl (English Service) and global news agency AFP. In 2013, he won a continent-wide competition, the African Story Challenge, emerging out of over 300 African journalists. He also won a Ghana Journalists Association (GJA) Award in 2014.
At his radio station, Citi 97.3 FM, Nana Boakye-Yiadom is the Deputy Director of News Programming. On daily basis, he directly supervises a news force made up of 45 journalists in Greater-Accra and the 9 other regions.
Boakye-Yiadom is the founder of IJourno Africa, a not–for profit organization, sharing his experience and training student journalists in data journalism – to tell developmental stories. He has so far trained scores of students from the Ghana Institute of Journalism, the African University College of Communications, Central University College and the University of Ghana. He has recently opened a chapter in Kenya and hoping to spread to other parts of the continent soon.
He is headed for the University of Illinois, Urbana Champaign for his fellowship, where he hopes to hone his leadership skills. After the fellowship, Boakye-Yiadom plans to create a powerful network with other fellows who will be interested setting up iJourno Africa chapters in their countries to help positively influence journalism across the continent.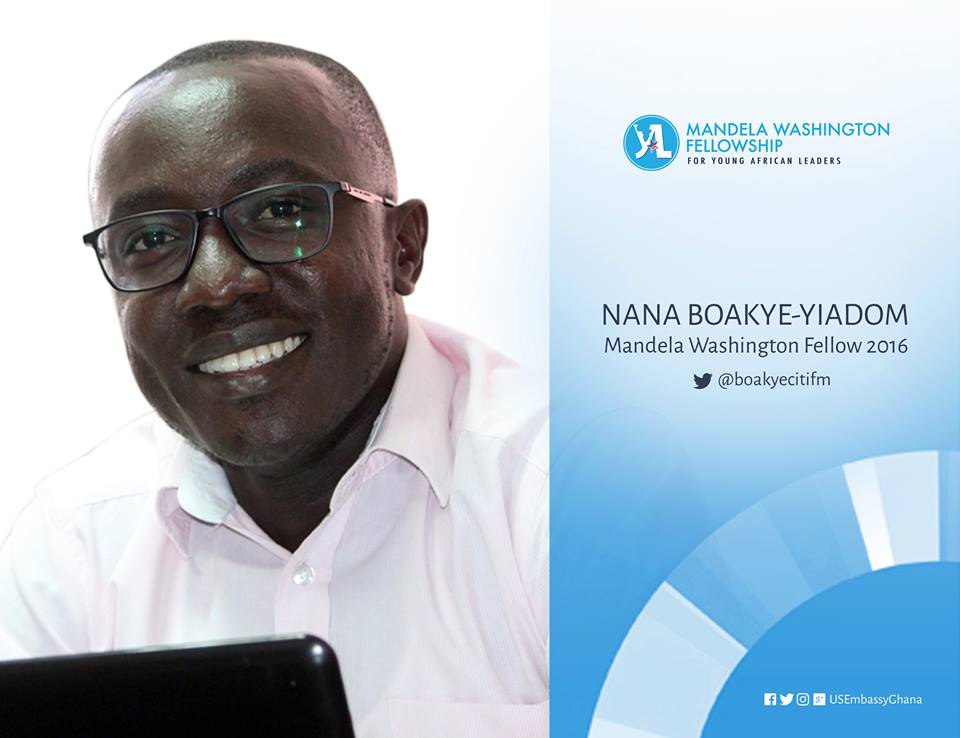 –
By: Jeffrey Owuraku Sarpong/citifmonline.com