The Ministry of Roads and Highways, has rejected claims that there are defects on the ongoing Kwame Nkrumah Circle Interchange project, which could potentially lead to a collapse of the edifice.
Information circulating on social media suggested that, the pillars supporting the flyovers, are sinking hence could crumble down anytime soon.
In the information that circulated, it was also stated that workers on the site have been desperately trying to reinforce the pillars to stop them from sinking.
But a statement issued by the Roads and Highways Ministry  today [Monday], said "the project has undergone all the necessary structural integrity tests and has proven to be structurally sound."
"Again, the so-called cracks on the piers are untrue and that the piers erected for the project are very strong, technically and physically."
"We wish to assure the general motoring public that, the Kwame Nkrumah Circle Interchange is very safe for use and does not pose any danger to its users."
The statement further appealed to the public to desist from making "such unsubstantiated allegations that has the potential to cause fear and panic to road users and rather seek necessary clarification from the relevant and appropriate quarters when they have concerns. We shall ensure that the Ghanaian tax payer gets value for the investments made in the project."
Meanwhile, Citi News' Kojo Agyeman, who visited the site on Monday, reported that a portion beneath the pillars, are drains supposed to convey excess water from the flyovers to safely go through the main Odaw storm drain in the area.
Kojo Agyeman said engineers on site told him that, the holes along the pillars "are just drains. It's supposed to receive water from the flyovers and link them to other Odaw River."
"Engineers told me that it is not reinforcement and that it is just a construction of drains around the pillars supporting the Kwame Nkrumah Interchange. They told me that it's going to rain, it's a flyover so they have to put in measures to increase friction when it rains and secondly put up drains to collect water from top of the flyovers when it rains."
"It is a meter deep and 180×80 centimeters wide. They have also laid pipelines connecting the flyovers and the drains beneath the pillars. This will collect water from top of the flyover and take it to the drain and the drain will also cede it straight to the Odaw River," Kojo added.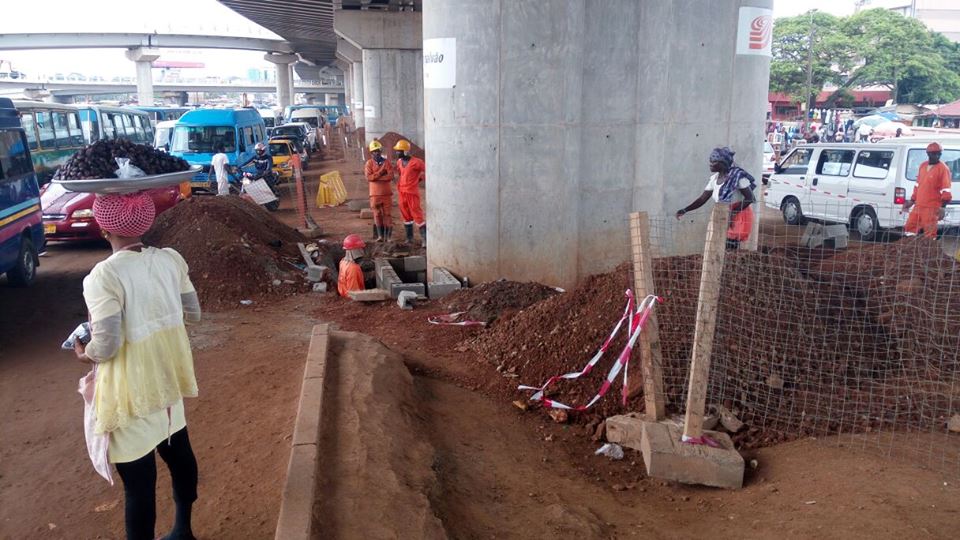 The 74.88 million euro project, is being jointly financed with credit from the Brazilian Government and the Ghana Government.
–
By: Godwin A. Allotey/citifmonline.com/Ghana
Follow @AlloteyGodwin