Sam Smith's hit single Stay With Me has been named song of the year at the BMI Awards.
The tear-jerking ballad received the honour after becoming the most-performed British or European song on US TV and radio last year.
It beat stiff competition from Ed Sheeran, whose singles Don't and Sing were both up for the prize.
Graham Gouldman was given the icon award, in honour of his work for 10cc, McFly, The Yardbirds and The Hollies.
After receiving his award, the star performed a version of his hit singles I'm Not In Love and Dreadlock Holiday with singer Lisa Stansfield.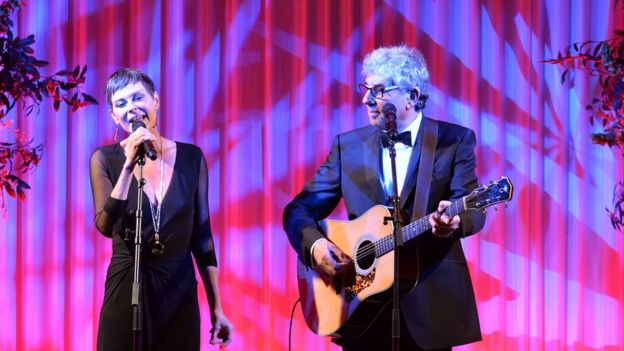 Gouldman follows previous recipients such as John Lydon, Queen, Sir Tim Rice, The Kinks' Ray Davies, Van Morrison and Bryan Ferry.
The musician said he was "honoured to be joining their ranks".
"I'm very lucky," he added. "In my working life, I do the three things I love to do: I love to write songs, I love to play live and I love to record. So I feel very fortunate."
The ceremony is organised by US performing rights body Broadcast Music, Inc (BMI), which collects and distributes royalties to songwriters when their work is played in the US.
A special award was presented to Sir Mick Jagger and Keith Richards in honour of (I Can't Get No) Satisfaction, which has now been played nine million times on US radio. To listen to the song back-to-back nine million times would take almost 64 years.
There were also awards for The Zombies' Time Of The Season, which has been played seven million times; while Tears For Fears' Everybody Wants To Rule The World and Gerry Rafferty's Baker Street were recognised for six million combined plays.
Throughout the ceremony, at London's Dorchester Hotel, BMI honoured other British songwriters and co-writers, whose hits have been popular on US radio over the last year.
John Newman was presented with pop awards for his singles Love Me Again and Blame; Charli XCX was rewarded for Fancy, her collaboration with rapper Iggy Azalea; while Irish troubador Hozier was recognised for his global hit Take Me To Church.
Sam Smith won a further four prizes – for Stay With Me, I'm Not the Only One, Latch (with Disclosure) and La, La, La (with Naughty Boy).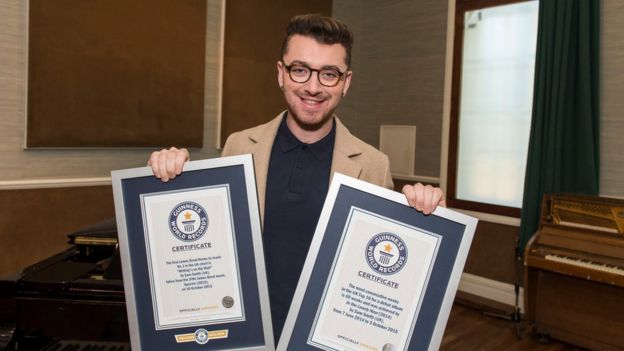 The honours came on the same day he was presented with two Guinness World Records – one for scoring the most consecutive weeks in the UK top 10 by a debut album; and the other for recording the first James Bond theme to go to number one.
The full list of winners is available on the BMI website.
–
Source: BBC