Russia is due to stage its biggest ever military parade in the capital Moscow to mark 70 years of victory over Nazi Germany in World War Two.
Thousands of troops will march on Red Square, and new high-tech armour will be on show for the first time.
More than 20 heads of states are in Moscow, but many world leaders are boycotting the event because of Russia's role in the Ukraine crisis.
Russia denies claims by the West that it is arming rebels in eastern Ukraine.
More than 6,000 people have been killed since fighting began in April 2014 in Ukraine's Donetsk and Luhansk regions.
Show of strength
The victory parade in Moscow is due to start at 10:00 local time (07:00 GMT), after a series of dress rehearsals on the streets of the capital.
Military units from across Russia – some dressed in WWII-era uniforms – will be marching, and more than 100 aircraft will fly over Red Square.
The most talked-about new hi-tech Russian armour is the T-14 Armata battle tank, which has a remote-controlled gun turret and reinforced capsule for the crew.
The RS-24 Yars intercontinental ballistic missiles – each capable of delivering three nuclear warheads – will also be on show.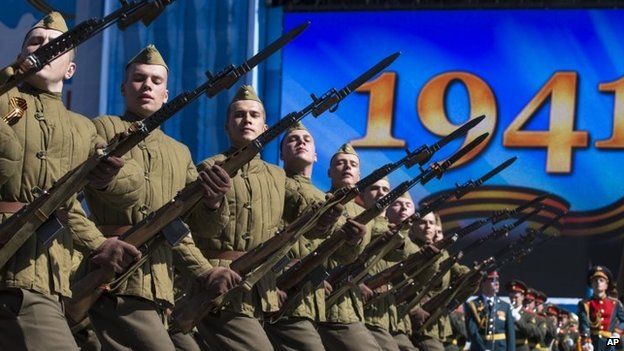 Chinese President Xi Jinping, President Pranab Mukherjee of India and UN Secretary General Ban Ki-moon will be among more than 20 world leaders watching the event.
In a sign of closer ties between President Vladimir Putin's Russia and China, a column of Chinese troops will march in Moscow for the first time.
Military parades on a smaller scale are also being held in other cities, including Sevastopol in Crimea – Ukraine's southern peninsula annexed by Russia in March 2014.
In the rebel-held Donetsk and Luhansk, eastern Ukraine, tanks will also roll on the streets of the two cities.
'Parade of cynicism'
The US, Australia, Canada and most of the EU heads of state are boycotting the celebrations in Russia over its alleged involvement in the Ukraine crisis.
On Friday, Poland organised an alternative event for those leaders who refused to go to Moscow.
Events in Gdansk were attended by the presidents of several countries including Bulgaria, Czech Republic, Estonia, Lithuania, Romania and Ukraine. Mr Ban was also there.
Addressing the gathering, Ukrainian President Petro Poroshenko was quoted by the AFP news agency as saying that "crimes are committed today in the 21st Century amid the aggression against my country Ukraine, despite the cruellest lessons of the past".
The Ukrainian leader also described Saturday's event in Moscow as a "parade of cynicism".
Source: BBC