A Mexican army helicopter has been shot at in the western state of Jalisco, killing three soldiers and injuring 12 others.
The country's defence minister said the aircraft was forced to make an emergency landing after it came under fire from members of a drug cartel.
A government official said the Jalisco New Generation gang was believed to be behind the attack, Reuters reports.
There were violent clashes elsewhere in the state on Friday.
Jalisco's Governor Aristoteles Sandoval said at least seven people had been killed and 15 injured.
Vehicles were set on fire and banks and petrol stations were damaged across the region.
"This is a reaction to an operation to detain leaders of this cartel," said Mr Sandoval, without naming the group.
The Jalisco New Generation is considered one of the most powerful criminal organisations in Mexico and is involved in large-scale drug trafficking along the Pacific Coast.
The military helicopter was taking part in the operation when it spotted carloads of gunmen on a road between the towns of Casimiro Castillo and Villa Purificacion.
Three other security personnel are still missing, according to the defence ministry.
More than 20 police officers have been killed in attacks by drug gangs in the last two months in Jalisco state.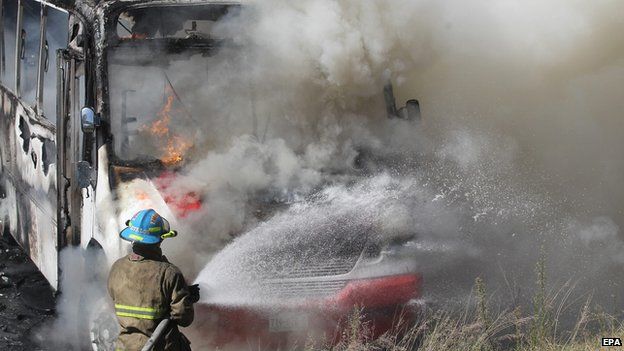 –
Source: BBC