Market women at the Koforidua Central Market in the Eastern Region, were full of smiles and appreciation over the weekend, when the Municipal Chief Executive of the New Juaben Municipal Assembly, Madame Comfort Asante, together with the Municipal Health Director, Dr. Ekow Kwaitoo, and other members of the Assembly, inaugurated a 6-seater water closet toilet facility at the market.
The market for over thirty years, has been without a toilet facility, an unpleasant situation that both traders and visitors to the market have painfully endured.
A joyful Queen-mother and leader of the market women, Nana Ama Obohyen, in a Citi News interview expressed their profound appreciation to the MCE and the assembly for coming to their aid.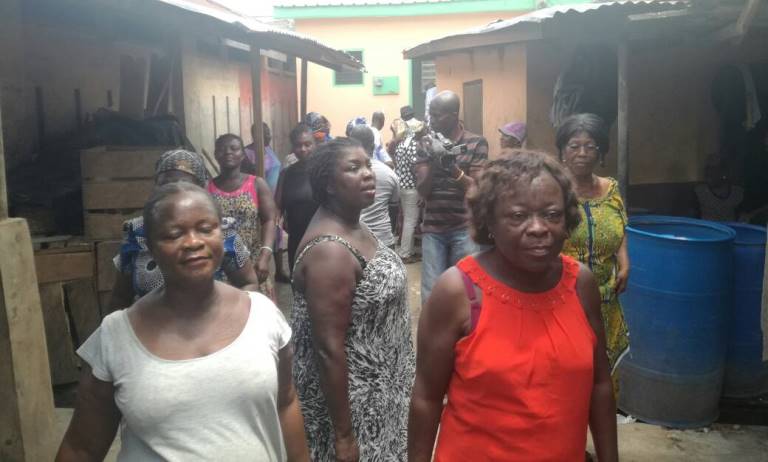 "I stand here proud today and on behalf of all market women in the central market we say (ayekoo) to our able municipal chief executive for the honour done us today."
The Queen mother recounted their struggles in finding a place of convenience.
"I personally have been trading in this market for more than 30 years and there are other women I came to meet here. When you feel uneasy and want to use the place of convenience, you would have to try and hold it in and board a taxi to your home and use your toilet, and this has been the practice here for several years."
She continued, "It made life a bit difficult here doing business and what worried us most was our clients and customers who frequently found themselves in difficult positions wanting to use the toilet. We complained several times to past mce's but nothing materialized till we were blessed with Madame Comfort Asante a woman who also understands the plight of other women."
The municipal chief executive Madame Comfort Asante however pleaded with the leaders of the market to ensure cleanliness and frequent maintainer of the facility.
"Am glad we have been able to finish this project for the market women today, when you try to put yourself in their shoes you will feel the struggles and anguish they endured whenever they were in need of a place of convince."
"We are committed at the Assembly to make sure residents of New Juaben live in peace, unity and happiness, and we will go all out to ensure that. I want to encourage them to put the facility to good use, keep it clean and neat at all times and ensure it is regularly maintained."
Madame Comfort Asante, together with other officials,  later inaugurated a newly constructed maternity block at the Medical village health centre at Adweso, and a 6-unit classroom block with a library, an office, a store and a 2-seater KVIP for the Koforidua Municipal Assembly Basic School at Apenkwa junction.
–
By: Neil Nii Amatey Kanarku/citifmonline.com/Ghana