Issa Ouedraogo, Chief Executive Officer of B-BOVID, a Ghanaian innovative agribusiness based in the Ahanta West District of the Western Region, has for the second time been named as the Best Farmer in the Western Region.
Mr. Ouedraogo got the recognition at the 2017 Farmers' Day event held in Kumasi in the Ashanti Region.
[contextly_sidebar id="On9MWvMy2G7h2oT62PjJfkSIxepfTxoM"]For his prize, Mr. Ouedraogo received a tricycle, a certificate, fertilizer, chemical, watering can and other items. Issa Ouedraogo won the same award at the regional celebration of the farmers' day event in the Western Region in 2013.
His innovative agribusiness, which provides mechanization support and advisory services to farmers, trains farmers through ICT in agriculture, supplies organic fertilizer, offers practical training on alternative livelihood for persons in agriculture, and develops high yield pest resistant seedlings among others, employs about 60 people directly, and about 200 indirectly.
B-BOVID CEO named 2016 Chamber Businessman
Few days to the National Farmers' Day celebration, Mr. Ouedraogo was crowned as the Chamber Businessman of the year 2016, at maiden Chamber Business Awards by the Chamber of Commerce and Industry Awards.
The maiden awards ceremony held at the State Banquet was to celebrate the finest of businesses that have demonstrated excellence in leadership and innovation in contributing to the socio-economic development of the country.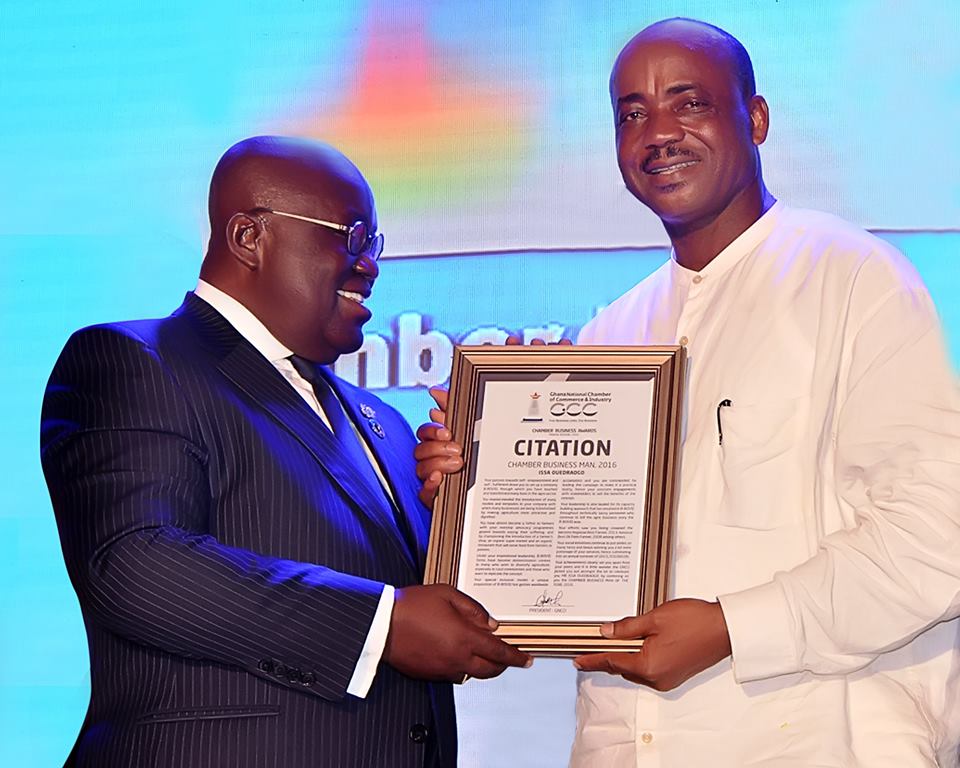 About B-BOVID
B-BOVID promotes sound agricultural practices and ecological farming, and offers training to farmers on variety of improved agricultural methods.
It also organizes community outreach programmes to encourage small holder farmers to adopt modern technology, promotes healthy lifestyles and nutrition, and educates farming communities on the impact of climate change and land degradation.
Currently, the World Bank has selected B-BOVID as one of the model farms in the country to be promoted as the ideal farming model that other farmers could tap in to empower themselves and change their fortunes.
B-BOVID wins prestigious UN award
B-BOVID's model has received several commendations and recognition both locally and internationally, including the United Nations (UN). In 2012, B-BOVID, won the UN's Social Investment Pioneer Award along with nine other businesses from around the world.
The awards were given in recognition of the companies' outstanding contributions to local community development. The awards are the initiative of the Principles for Social Investment Secretariat and the United Nations Global Compact.
–
By: Ebenezer Afanyi Dadzie/citifmonline.com/Ghana