The Ashanti Regional Director of the Ghana Health Service (GHS), Dr.Emmanuel Tenkorang, has said that his outfit will release its findings on the cause of deaths at the Kumasi Academy by the end of the day today [Thursday].
According to him, the Noguchi Memorial Institute, which has been testing samples from the students at the school over the last few days, has come up with some preliminary findings, but added that further tests needed to be run to ascertain the exact cause of the deaths.
"With the samples that were taken to Noguchi, they would have to work on them further. I'm sure that by the close of the day the Director General of the Ghana Health Service will come out with a statement on the findings and the way forward. So far we've been able to contain the situation, and I believe that we are almost through. The face of the disease has changed because of the earlier interventions," Dr. Tenkorang said on the
Citi Breakfast Show
.
The Health Minister, Kwaku Agyemang-Manu, said in Parliament on Wednesday, that his Ministry was still waiting for the results of tests being conducted by the Institute.
In the meantime, health officials in the Ashanti Region, have begun administering antibiotics to students and staff in a bid to curb the situation.
Four students died in the last week because of the unidentified ailment, prompting panicked parents to rush to the school to withdraw their wards.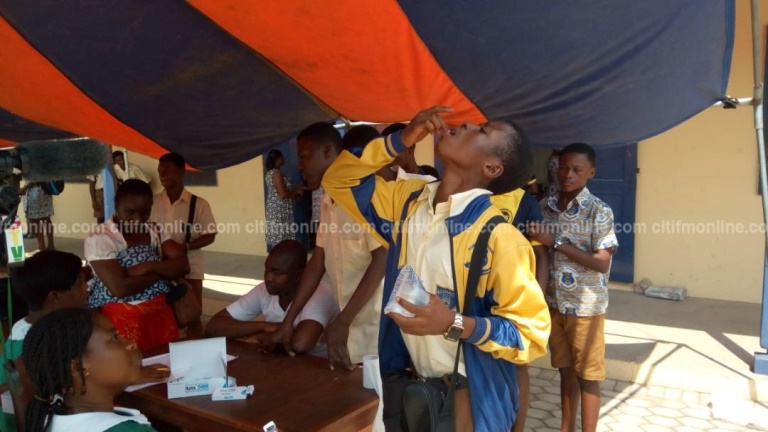 Mr. Agyemang Manu had expressed fears that if the condition was eventually revealed to be communicable, it would place other members of the students' families and neighbours at risk.
"Unfortunately on Tuesday night , information came up that parents have taken their wards from the school and this has become another health challenge because the medical advice said that we should contain them in the school, and manage them more efficiently. The problem we now have is that, if the disease is confirmed to be a very contagious one, it will mean that those who have come out of the school into their family homes are going to help spread the disease. That is the challenge we are confronted with," he said.
And according to Dr. Tenkorang, no more deaths have been recorded at the school since Tuesday, and the students who are on admission are responding well to treatment.
He however called on parents who had taken their children home to bring them back to the school, so that they can be administered with antibiotics as well.
"38 of the children were on admission as of yesterday [Wednesday], and it's likely that most of them will be discharged today [Thursday]. I was with them, and they were all doing very well on treatment. We've not recorded any deaths apart from the four," he said. 
"We've given the students the antibiotics in the school, but unfortunately, most of the parents took their children home. We've urged them to bring the children back and yesterday [Wednesday], they brought some of the children for the treatment."
–
By: Edwin Kwakofi/citifmonline.com/Ghana