The Mandela Washington Fellows Association of Ghana (MWFAG) has paid a courtesy call on the Sierra Leonean High Commissioner to Ghana, Her Excellency, Umu Hawa Tejan–Jalloh.
The visit was to discuss issues of mutual benefit to both parties and commiserate with the High Commissioner and the people of Sierra Leone, following the mudslide disaster that devastated the West African country, a couple of months ago.
The group made a donation as a token of support and goodwill to the people of Sierra Leone. The items donated included sanitary towels, toothpaste and tooth brushes, bathing and washing soap, clothing, and others worth hundreds of Ghana Cedis.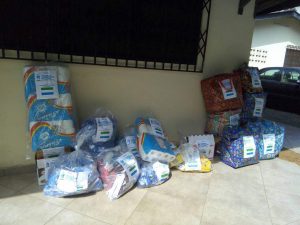 President of the Association, Prosper Ahmed Amuquandoh, expressed the hope that this goodwill gesture would contribute to strengthening the bond that exists between Ghana and Sierra Leone, especially between the youth of both countries.
"Our connection with the youth of Sierra Leone started during the Mandela Washington Fellowship in the United States of America, where we had some representatives from Sierra Leone. So, following the mudslide disaster, we, as an Association, and feeling the pain of our brothers and sisters in Sierra Leone, decided to extend support and goodwill, through the High Commission, to them, with this donation. We hope this token of support would go a long way to show them how much we care, and hence strengthen the bond of brotherhood that exists between us."
He further called on the Commission to consider partnering the Association on strategic projects that will inure to the benefit of both countries.
"We wouldn't want our relationship with the High Commission to be restricted to donations during disasters; we want to relate beyond that. So we would be coming back to the High Commission to talk about how we can collaborate with our colleague young people in Sierra Leone to develop the capacity of young people in our two countries."
On her part, the High Commissioner thanked the Association for the gesture, and noted that, this will set the tone for future collaborative projects between the High Commission and MWFAG.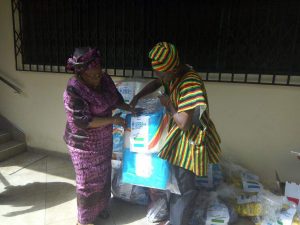 "The people of Sierra Leone are grateful to you for this kind gesture. It is exciting to know that Africa can now boast of a new generation of young leaders who believe in the concept of Ubuntu. It is my hope that this will be the beginning of many more collaborations between the young people of both countries especially in the areas of leadership and capacity development."
The Mandela Washington Fellows Association of Ghana (MWFAG), is an association of the alumni of the Mandela Washington Fellowship (MWF), a flagship program of President Barrack Obama's Young African Leadership Initiative (YALI).
The Fellowship, which begun in 2014, is a 6 to 12-week academic, leadership and professional training program in selected US institutions that seek to empower selected young people in Africa through academic coursework, leadership training, and networking.
The Fellows, who are between the ages of 25 and 35, have established records of accomplishment in promoting innovation and positive impact in their organizations, institutions, communities, and countries.
–
By: citifmonline.com/Ghana