Ghana's authoritative and credible digital news platform, Citi FM, has been named by the Chartered Institute of Marketing Ghana (CIMG) as the Emerging Digital Organization of the Year.
It said the organization, whose parent company is Omni Media Co. Ltd, was being recognized for its excellence in strategic marketing for the year 2016.
Citi FM was honoured alongside the Citi Breakfast Show as the Programme of the Year [2016], at the awards event which was held on Saturday.
CIMG acknowledged that, Citi FM through innovative and value-driven content had set itself on a path of distinction in digital media in the country and has been an influential brand on social media.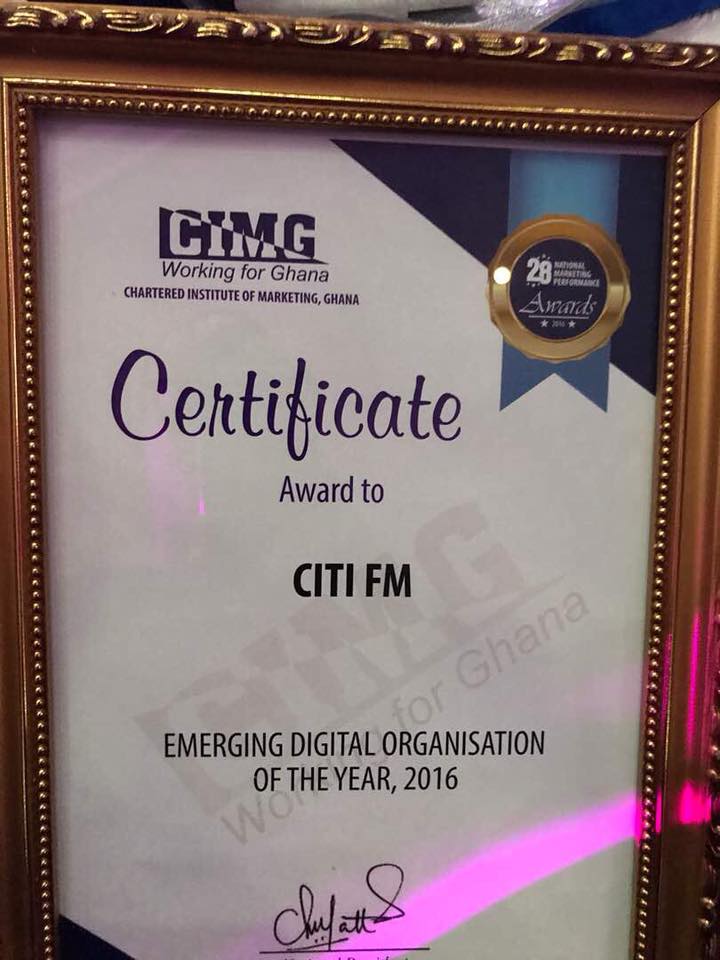 A citation handed to Online Manager, Mawuli Tsikata, read, "Your evaluators…unanimously concluded that through your efforts at creating and leveraging innovative and value-driven content, you set yourself aright on this path of distinction. You can today boast of over 1 million likes on Facebook, with over 240,000 followers on Twitter, coupled with multiple awards for the Most Influential Brand on social media."
Citi FM through deliberate actions have focused on serving internet users relevant content in creative multimedia formats as a way of keeping them informed of developments, especially around the country.
The platform thrives on the rich engagement of active users who contribute daily to news stories and reports online in their efforts at nation building.
Citi FM wins best social media presence award again
The 2016 CIMG Emerging Digital Media Organization Award comes after many others including one by the Blogging Ghana in 2016 as the media organization in Ghana with the best social media presence.
The station in 2014 picked the prestigious social media presence award at the same event.
Citi FM Ghana's first Twitter verified station
Citi FM in December 2015, became Ghana's first Radio station to be verified on Twitter.
The station's official Twiter account, @Citi973, is one of the most followed in the country and has been one of the most active in recent years. The station's tweets have consistently trended on Twitter in Ghana and in other countries including South Africa as well.
Citi FM hits 500,000 likes on Facebook
Also in December of 2015, the station's official Facebook page, achieved a milestone by becoming the first radio station in Ghana to hit over 500,000 likes over on Facebook.
But from December 2015 till now, that number has doubled as the station now has over a million likes.
–
By: Jonas Nyabor/citifmonline.com/Ghana