The 7th edition of the Chale Wote Street Art Festival has seen a lot of themes exhibited through different art forms and one of these themes is urging men to be more helpful at home.
Nico, one of the many artists exhibiting at this 2017's festival in Jamestown painted a muscled man carrying two " Kufour gallons'' full of water.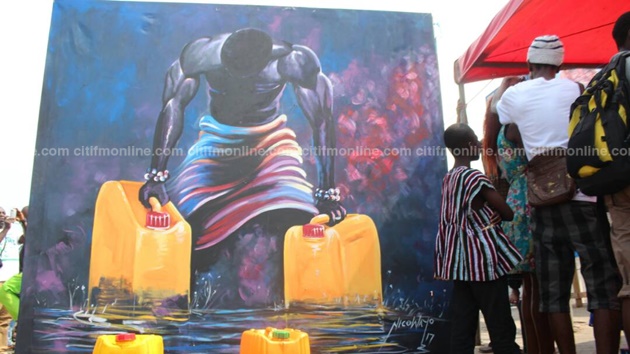 This, according to him, is to encourage men to help their wives with household chores.
"The theme of the street arts festival is WATA MATA and you can see a muscled man with gallons full of water just to portray that some men out there, strong enough to fetch water to help their wives in the house but they don't they just cross their legs watching TV allowing their wives with pregnancy to go out there to be carrying water and I don't think it's a good idea," he told citifmonline.com.
Nico has several other paintings which include a painting of himself fighting life with brushes. His paintings are inspired by his everyday life experiences.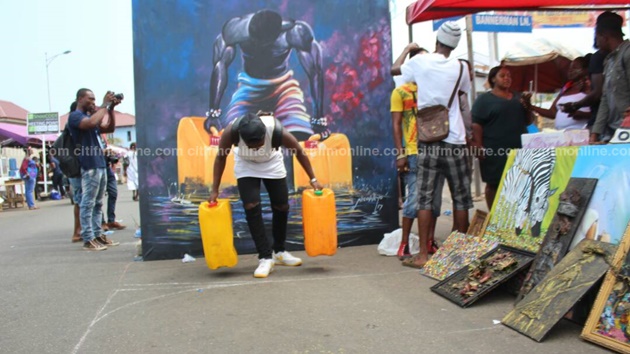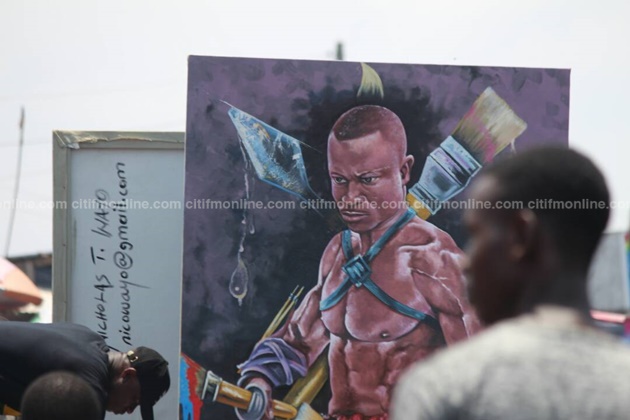 The Chale Wote Street Art Festival, which started on Monday 14th August, 2017 is ending today, Sunday, 20th August 2017.
The 2017 festival marks the end of a trilogy that began in 2015 with African Electronics, a blueprint to access internal technologies and re-member organiser's multi-dimensional systems to create the impossible.
The community-based festival takes place in James Town; one of Accra's most historic communities – and targets exchanges between Ghana-based and international artists creating art together.
–
By: Roberta Edem Abbeyquaye/citifmonline.com/Ghana