The opposition National Democratic Congress (NDC) today [Thursday] launched its ideological school known as the Ghana Institute of Social Democracy.
The school according to the party will inculcate its principles, ideologies, and values to members.
Speaking at the launch the General Secretary of NDC, Johnson Asiedu Nketiah said the school will be helpful to the future of the party.
"In April 2017, the party's school working committee, based on its previous report proposed the formation of the Ghana Institute of Social democracy as an institution of higher learning and research to train many party comrades and other interested stakeholders in the fundamental principles and philosophy of the party."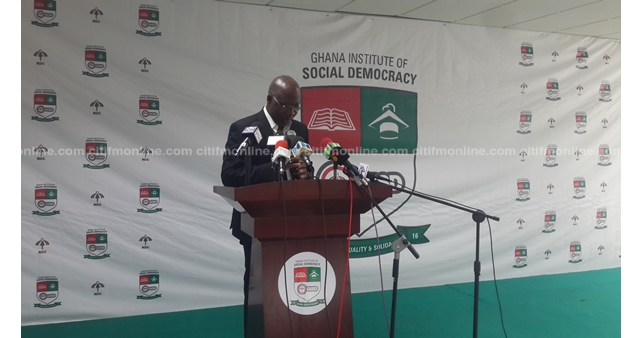 "The institution hopes to serve as a centre for research in the changing global ideological perspectives of the social democratic tradition and realigns itself with the emerging global trends in order to strengthen the social democratic philosophy in Ghana and Africa."
The school currently has the NDC's Director of Research, Dr. Willian Ahadzie, as its rector and will, in the meantime, start from the conference room of the party's headquarters.
Dr Ahadzie, had earlier indicated that when the party finally establishes the school, it would ensure that party appointees, Members of Parliament and executives will all be taken through the principles and philosophies of the party.
He disclosed to Citi News, that they have no intention of indoctrinating its members with philosophies of the party.
He explained that rather the school will shape the future of the party.
Dr. Ahadzie stated, "we wan't ensure that party enthusiasts understand the principles and ideologies of the NDC so that they chart the course of the party. We also intend to train people in, Electioneering, District Assembly rudiments and Entrepreneur skills. All these will help them apart from politics to also have a dependent livelihood."
Academic Affairs sub-committee of the school
Prof Kwamena Ahwoi
Prof Danso Boafo
Dr. William Ahadzie
Prof. Gavua
Dr. Kpesah Whyte
Dr. Getrude Ali Zakaria
Mr. Nkunu Akyea
Mr Piesie Anto
Mrs. Emelia Arthur
Tawiah Akyea
Dr. P. A. Korankyi
Dr. Oteng Adjei
Prof. Agyenim Boateng
Dr. Karl Mark Arhin
Some Proposed Programmes
Philosophy, Principle and Practice of Social Democracy
Political Economy of Development
Elections and Electoral Systems
Gender Mainstreaming
Youth Development
Development and Environmental Sustainability
Grassroots Political Mobilization and Activism
Public Sector Management
Public Policy Formulation and Implementation
–
By: Kojo Agyeman/citifmonline.com/Ghana