Irate supporters of the governing New Patriotic Party (NPP) in the Savelugu constituency of the Northern Region have rejected President Nana Akufo-Addo's plea that the Municipal Chief Executive (MCE) for Savelugu/Nantong Municipality, Hajia Ayishetu Seidu should be allowed to work in her office.
A delegation from the Presidency today (Monday) visited the troubled Savelugu township to mediate the political standoff between some angry NPP supporters and the Municipal Executive (MCE), Hajia Ayishetu Seidu.
A Minister of State at the Presidency, Bryan Acheampong led the delegation which involved the Member of Parliament for Savelugu constituency, Hon. Abdul Samed Gunu.
He expressed the President's dissatisfaction with the political stalemate there, hence the delegation's visit.
Mr. Acheampong thereby pleaded with the protesters to back down on their incessant demonstrations and team up with the MCE to deliver her mandate.
He reassured the youth of President Nana Akufo-Addo's promise to offer them lucrative jobs.
The protesters remained defiant and pleaded with President Akufo-Addo to address their concerns.
They renewed calls for Hajia Ayishetu Seidu's replacement against the backdrop that she is alien in the Savelugu constituency.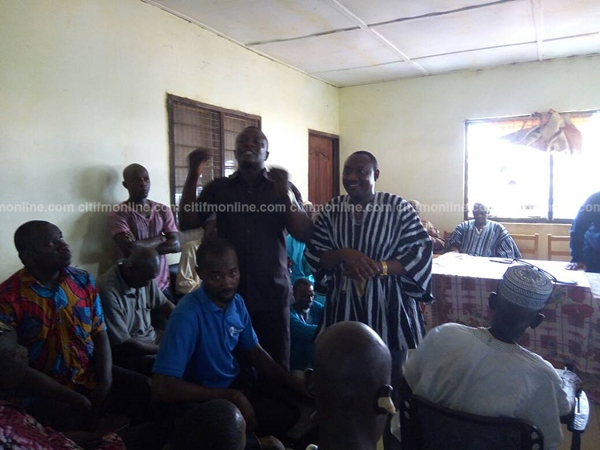 Background
The Savelugu-Nantong Municipal Chief Executive, Hajia Ayishetu Seidu has been under siege since her confirmation.
Her challengers have vowed to resist any attempt to allow her work in the office and further served notice that any forceful imposition will be fiercely resisted.
They predicted that the NPP risks losing the Savelugu seat in the 2020 polls if Hajia Ayishetu Seidu is not replaced.
The MCE's security escort
Hajia Ayishetu Seidu was finally inducted into office under heavy security. A joint task force from the Regional Security Council and the Municipal Security Committee escorted her to her office.
The protesters defied the security escort and went ahead and locked up the main entrance to the Savelugu/Nantong Municipal Assembly complex.
The armed security personnel dispatched there fired warning shots and brought the situation under control.
The situation has since created uneasy calm in the Savelugu Township where the protesters have so far organized three peaceful demonstrations against the MCE's nomination and subsequent confirmation.
Savelugu MP condemns standoff
The Savelugu constituency Member of Parliament, Hon. Abdul Samed Gunu, however, insists that diplomacy is the panacea to the problems there.
He is afraid of losing the seat at the 2020 polls which the NPP won for the first time in 2016 if his constituents are oppressed.
–
By: Abdul Karim Naatogmah/citifmonline.com/Ghana