Yamaha Music Gulf FZE, a 100% subsidiary of the Yamaha Cooperation in Japan will tomorrow, Saturday, February 18, 2017 hold a workshop in Accra to boost the capacity of Ghanaians on how to optimize its new line of keyboard, the Yamaha Montage.
The Yamaha Montage keyboard is the latest edition in the Yamaha line of Synthesizer products and highly considered as one of the best musical instrument ever to be produced in the world.
The event will have Katsunori Ujiie, a world renowned composer, arranger and keyboardist being the guest speaker at the seminar.
This free event is scheduled to take place at 9:00am at the Alisa Hotel.
Katsunori Ujjie who will facilitate this event is an experienced composer and sound designer for Yamaha keyboards.
The event will see sessions that will explain to patrons how to optimize the use of the new Yamaha Montage as well as previous models, that is, the Motif series and PSR series.
There will also be an interactive session that will address all issues faced by users as well as providing value for potential users.
Speaking to the media, Katsunori Ujjie expressed great joy being in Ghana for this seminar.
He said "Yamaha Music, over the years, has produced some of the best musical instruments and we feel the need to incorporate seminars as well as trainings sessions on the use of Yamaha musical instruments in Ghana and Africa as a whole".
He also encouraged all musicians and stakeholders to join this free seminar.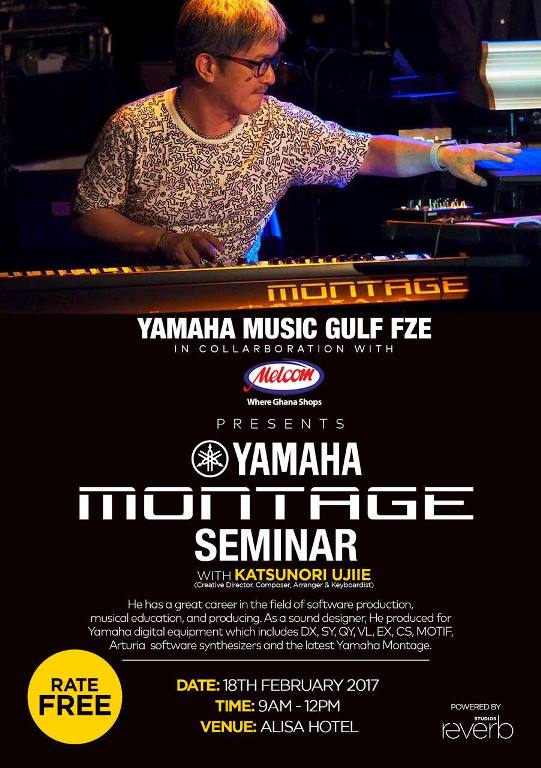 The Yamaha Music Gulf delegation to Ghana includes Mr. Keizuke Suzuki, Sales & Marketing Manager, Mr. Opoku Sanaa, Sales & Marketing Coordinator-Sub Saharan Africa, Mr. Thomas Garcia, Combo Products Department and Mr. John Oben, Professional Audio Coordinator is expected to embark on working visits to some specific areas in the country as well.
A significant objective of YMG FZE is to make products and provide services that suits client needs with considerations to international trends and technology development. They offer a line of Yamaha equipment including digital pianos, guitars, basses, synthesizers, and drums among others. YMG FZE is responsible for sales in Africa, the Middle East and CIS.
The event is being organized by Melcom Ghana, distributors of Yamaha products in Ghana. It is also supported by Reverb Studios.
–
Credit: Reverb Studios