Former President John Mahama has withdrawn his request to keep his official residence as his retirement home.
A statement sighted by citifmonline.com indicates that, the President in a letter addressed to the new government on Tuesday, said, he found it important to move out of the building to avoid marring the spirit of cooperation between the two sides of the transition teams.
He did not give further explanation for his latest decision.
Read Mahama's full letter below: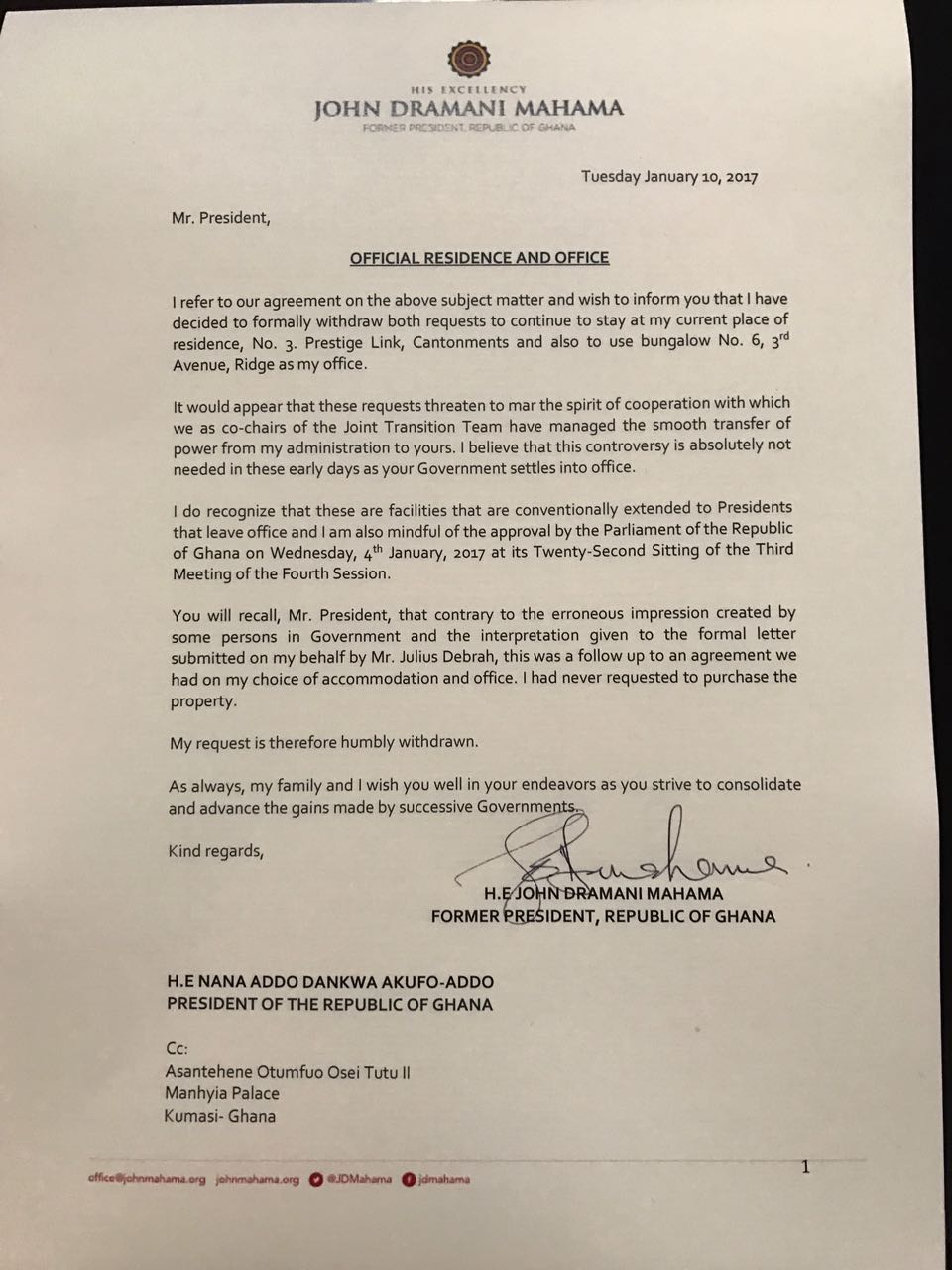 Mahama, through a letter signed by the former Chief of Staff, Julius Debrah, dated 19th December 2016, informed the new government that Mahama wanted to keep the Presidential residence as his retirement home, and made a request for some adjoining properties to be given to him as his office.
President Mahama's request to keep the bungalow, contrary to the approved recommendations set by the Prof. Dora Francisca Edu- Buandoh committee on Emoluments and Conditions of Service for Article 71 office holders, has created a public uproar, with many Ghanaians accusing the President of blatantly trying to acquire more than what has been approved for him by the state.
'Residence approved as my retirement package'
 The President in a subsequent statement, said his decision to maintain the state residence he occupied while in office, was approved by the new government led by Nana Akufo-Addo as well as Parliament.
'We've not approved Mahama's request'
But President Nana Akufo-Addo's side of the transition team in a rebuttal, said the government is yet to approve former President Mahama's request to keep his the property, contrary to Mr. Mahama's statement.
The spokesperson to Akufo-Addo's side of the transition team, Kojo Oppong-Nkrumah, in a Citi News interview, said there had been no approval yet for the former president to keep the house.
"The former president has made a request, that request will be decided on and a decision will be communicated. As I speak to you, a decision is yet to be communicated on it. Mr. Omane Boamah's statement is that they in the previous administration took a decision and communicated that decision. Obviously that cannot be the case."
'Mahama's request unlawful'
A Legal Practitioner, Yaw Oppong, in a Citi News interview, said former President John Mahama's request was unlawful.
Mr. Oppong believes the former President's request clearly contravenes the Presidential Transition Act. "As I understand, he has no entitlement to this particular facility. In my view, the intent of the Presidential Transition Act is very clear that a day before the President and his Vice will cease to be President, they need to vacate their official residences and if they so wish , an alternate residence may be given them or they may occupy an alternate residence. The law is that you quit the premises so that an alternate premises will be given. If you do not comply with such mandatory provisions of the law, I don't think there is any justification to come under the same law and seek for a relief," the lawyer argued.
–
By: Jonas Nyabor/citifmonline.com/Ghana